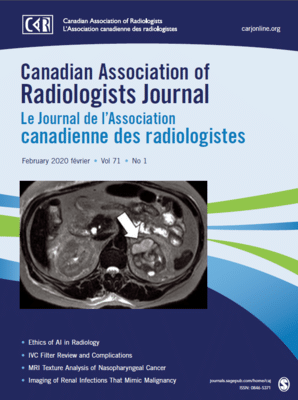 The Canadian Association of Radiologists Journal (CAR Journal) is a peer-reviewed, Medline-indexed publication that presents a broad scientific review of radiology in Canada. Since its first publication in 1950, the journal has been dedicated to publishing articles pertaining to current, cutting-edge diagnostic and therapeutic radiology as well as guidance on emerging techniques and technologies.
The CAR Journal brings the latest information to subscribers four times per year, online and in print. Article types considered for publication include original research articles, review articles, editorials and letters to the Editor.
Insights4Imaging (i4i)
In collaboration with the CAR, the CAR Journal features a journal-based self-assessment program, Insights4Imaging, designated as continuing professional development (CPD) activities. Access is available through RAD Academy, a learning management system dedicated to CPD for radiologists.
For more information on our Journal, please visit the CAR Journal website at https://journals.sagepub.com/carj