Accredit Your Program or Event
As an approved accredited CPD provider for the Royal College, the CAR accredits CPD activities and programs that fulfill the criteria and requirements identified in the National Standard. The accreditation review process ensures the content is rigorous, informed by scientific evidence, and demonstrates its responsive to various practice needs. Accredited radiology programs and activities offer excellent learning opportunities for medical imaging professionals to stay at the cutting edge in their field. All programs are reviewed in accordance with the National Standard, which is applicable to group learning activities (Section 1) and Section 3 activities, self-assessment programs (SAP) and simulation-based (SIM).
Please note, it is strictly prohibited to advertise or promote a program with accreditation statements or any wording (as "accreditation has been applied for" or "pending") prior to formal CPD approval.
Getting Started - CPD Activity Accreditation
ACCREDITATION APPLICATION CRITERIA
The CPD activity, conference or program must:
be developed by or co-developed with a physician organization. In the case of co-developed programs, the

*

physician organization assumes full responsibility for the program and must be prospectively involved in its planning.
include a needs assessment of the target audience.
be learner focused.
ensure that learning objectives have been defined according to the learning needs of the participants and address the identified practice needs.
be developed by a scientific planning committee that is representative of the target audience.
include an opportunity for participants to evaluate the activity, conference or program, for satisfaction, knowledge assessment, practice change and/or health outcomes.
identify financial support (sponsored and/or in-kind support) and adhere to the Canadian Medical Association Guidelines on Physician Interactions with Industry.
include speaker and planning committee disclosure declarations (conflict of interest).
*The Royal College defines a physician organization as a "not-for-profit group of health professionals with a formal governance structure, accountable to and serving, among others, its specialist physician members through continuing professional development, provision of health care and/or research. Examples include, but not limited to, faculties of medicine, hospital departments or divisions, medical societies, medical associations, medical academies, physician research organizations, health authorities not linked to government agencies." This is to ensure that the CPD/CME is being developed "by the profession, for the profession."
For more information on eligibility and inclusions, click here.
CPD Activity Accreditation Process
CPD accreditation applications must be submitted a minimum of 12 weeks prior to the activity start date to avoid late fees. Applications will not be accepted fewer than three (3) weeks prior to the event start date. The CAR encourages the early submission of applications to promote the accreditation status of the activity and eligible MOC credits.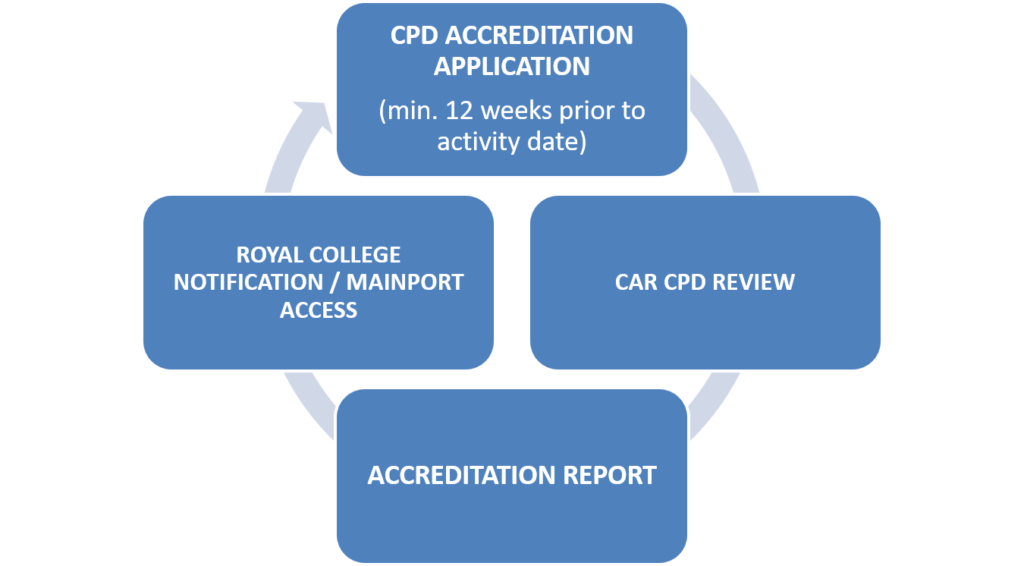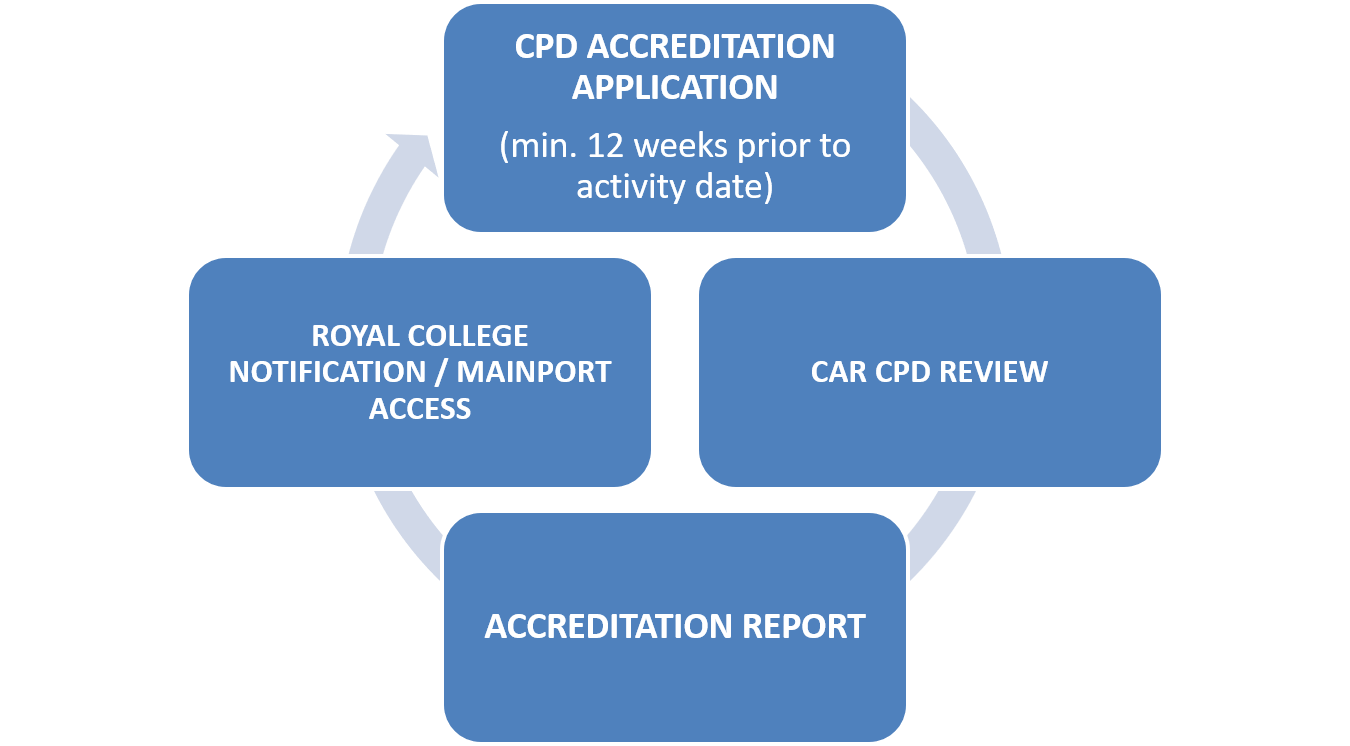 Have questions? Contact our Education department and we would be happy to assist you.
Julia Niles, Manager, Education Program Development