Contrast Agent Use in Medical Imaging: A Roadmap for Patients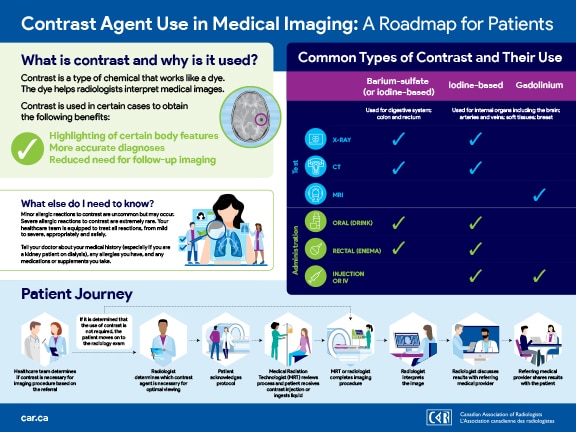 The CAR recently developed a contrast agent infographic to inform patients, families, and the public about types of contrast, common uses, and the patient experience with medical imaging that uses contrast. The infographic can be displayed by radiologists in their facilities across Canada and promoted online. It is a patient-facing document that addresses common patient concerns.
Social media graphics
Common Types of Contrast and Their Use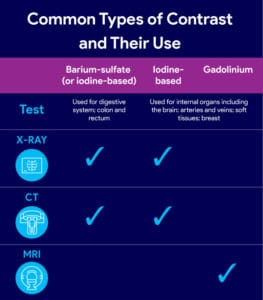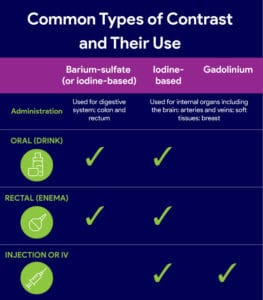 Patient Journey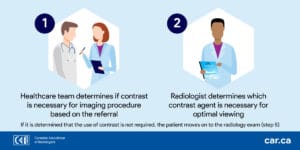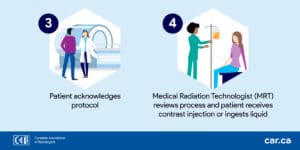 Who are radiologists?

Radiologists are doctors who specialize in interpreting medical imaging results and treating conditions using minimally-invasive procedures guided by imaging. If you've undergone an exam or procedure using medical imaging such as MRI, CT, ultrasound, or mammography, then a radiologist has been part of your diagnosis or treatment. Radiologists help patients by:
Analyzing medical imaging to find abnormalities
Communicating results to referring physicians, including a summary of findings, possible diagnoses, and recommended next steps
Treating conditions using minimally-invasive procedures guided by imaging, rather than traditional surgery
Conducting image-guided biopsies
Ensuring safe use of radiation
Our members are respected as experts in using medical imaging technology to promote safe, efficient and quality healthcare for Canadians.
Physicians specializing in medical imaging
Diagnosing an illness or disease and determining if treatment is working often requires physicians and other healthcare providers to see inside the body and look in ways the human eye cannot. A number of different imaging exams can be used to provide this view, including X-ray, MRI, ultrasound, CT scan, and PET scan. Radiologists are the physicians who specialize in interpreting the results of these imaging exams. Family physicians and other specialists turn to radiologists for consultation on the safest and most effective exam, and what the results mean for the patient and the treatment options.
In many cases, you will not meet the radiologist who is working on your behalf. You can trust, however, that they have the knowledge and experience to help you and your doctor make informed decisions about your health care.
Information You Can Use
The CAR believes that patients and their families are at the centre of the healthcare team. That's why this section of our website contains practical information you can use to make safe and effective choices.
---

Promoting Breast Cancer Awareness in Canada
In recognition of Breast Cancer Awareness Month, the CAR has created an electronic and print version poster, A Patient's Journey Through Breast Cancer Screening, for you to showcase at your workplace and through social media. Help us raise awareness for this important cause and promote the essential role of radiologists in diagnosing breast cancer by sharing these resources within your network.
The posters are also available on the CAR website.
---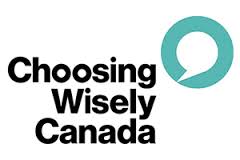 The CAR is an active participant of Choosing Wisely Canada(CWC), a physician-led national public education campaign that encourages physicians and patients to engage in conversations about the best choices in tests, treatments and procedures, with a view to helping them make informed and effective decisions that ensure high-quality care.
Click on the following links for resources related to medical imaging procedures made available through CWC:
---

The CAR is a proud member of the International Alliance for Radiation Safety in Pediatric Imaging. For information to help you make informed choices about diagnostic imaging for your child, please visit the Resources for Parents page of the Image Gently website.
---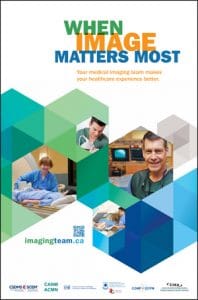 The CAR is a partner in the Medical Imaging Team, whose publications help the public identify the role of each of the healthcare professionals (physicians, physicists, sonographers and technologists) who collaborate to improve the health of Canadians through diagnostic imaging.
Among the important patient resources developed by the Medical Imaging Team is a brochure which provides patients with basic information regarding medical imaging to help them make informed decisions about their health. Additional information is also available at the Information for Patients and Their Families page of the Medical Imaging Team website.
---

RadiologyInfo.org, the Radiological Society of North America's patient resources website, provides information on various radiology tests and treatments as well as information about how patients can prepare, what they may experience and more.
We consider the information RadiologyInfo.org provides useful for general purposes. However, we must caution that some American radiological procedures and practices are not the same as in Canada and encourage those who have questions or concerns related to medical imaging procedures in Canada to speak with their physician. Please also note that the information is available only in English and Spanish.
---
Find an Accredited Clinic
As part of our ongoing efforts to promote patient safety and ensure the best healthcare for patients, the CAR accredits radiology clinics whose equipment, processes and people meet the highest standards. Our accreditation program currently applies to mammography clinics. The CAR will soon develop accreditation programs for other types of medical imaging.
Disclaimer: The CAR does not provide medical advice, and does not and cannot respond to requests for direct feedback, specific patient information or physician referrals.