Tackling Wait Lists, Empowering our Members, and Raising the Profile of Radiology in Canada
By Dr. Gilles Soulez, CAR President
As we come off a very successful year, the CAR is looking forward to capitalizing on our accomplishments and seeking out new opportunities for advancement and enhanced patient care.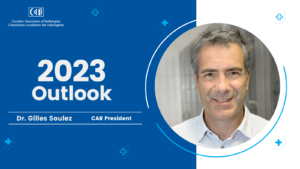 The last two years have been challenging for the medical community and our members have worked tirelessly to provide quality patient care. While things are improving in terms of access to medical imaging, restrictive but necessary measures from the pandemic did not help in tackling the looming wait lists. Both patients and radiologists experienced these effects firsthand in terms of not receiving the imaging required in an acceptable timeframe and radiology departments experienced a high level of burnout. The CAR is working hard on our members' behalf to rectify this. In the last year we have met with several MPs, presented before the House of Commons Standing Committee on Health, and engaged with media to raise awareness of the challenges facing radiology in Canada.
Our commitment to patients remains the top priority. The CAR continues to push for a federal investment in medical imaging equipment, the implementation of new technologies, and health human resources, so that we may better serve Canadians.  Once again, we are optimistic that our efforts will be recognized as they were in March 2022 with the Federal Minister of Health announcing a $2 billion investment in addressing the backlogs including diagnostic. As we prepare for the unveiling of the 2023 Federal Budget, our hope is that the government is committed to supporting an investment in medical imaging for patients. We recognize that there are competing priorities given the health system challenges we are all facing; however, radiology was significantly impacted with the disruption of the pandemic and wait times for imaging are at an all-time high.
We have also worked hard to provide resources to our members by offering education as a member benefit. RAD Academy, our online learning management system, is thriving and has over 150 accredited courses available complimentary to our members. We have been successful in hosting two virtual Annual Scientific Meetings (ASM) in 2021 and 2022 with record attendance. We are looking forward to returning to an in-person meeting April 27-30, 2023 in Montreal, where we can connect with our members face to face. Under the direction of new ASM Chair Dr. Tanya Chawla, and with the support of the CAR Annual Scientific Meeting Program Committee, our Annual Scientific Meeting will welcome renowned speakers and offer dynamic radiology content. I could not be more excited to participate in this year's meeting in April and encourage you to take advantage of the early-bird discount.
The CAR Journal is thriving. With a more than 300% increase in submissions and a growing impact factor (4.2), the journal continues to strengthen its position as a reputable source for radiology education. Kudos to Dr. Michael Patlas, who has signed on for another 5-year term as Editor-in-Chief and to the entire editorial board for their contributions to the success of the CARJ.
Other initiatives are on the horizon for the CAR. In 2023 we will be expanding on our accreditation efforts and introducing new programs such as lung cancer screening and CT. We will also be offering more breast focused education to help meet the read requirements for the CAR MAP program. There will be a focus on the implementation of new technologies. Clinical Decision Support has been a priority for the CAR for the last few years. Working in consultation with the groups such as the Canadian Association of Emergency Physicians, the College of Family Physicians of Canada, the Canadian Association of Medical Radiation Technicians, Sonography Canada, and the Nurse Practitioners Association of Canada, we have completed a large number of referral guidelines. Our objective is to continue to focus on development and identify a system where they can be made available electronically for all referring health practitioners through CDS systems across the country.
I would like to take this opportunity to wish everyone a Happy New Year and thank all our members for their support. Countless volunteers have dedicated hours of their time to help draft guidelines, advocate for patients, and undertake lifesaving radiology research. It is because of you that we are making such great strides in the advancement of radiology in Canada. I would also like to acknowledge our corporate partners who have supported us throughout the last few years and continue to help us deliver on initiatives. We hope that we can count on your continued support for 2023 and beyond.

Dr. Gilles Soulez, President