On November 15th the CAR hosted its 7th Annual Day on Parliament Hill. This date was selected to coincide with the International Day of Radiology (November 8). The purpose of the Day on the Hill is to advocate for the advancement of radiology at the national level and to raise awareness of the important role that radiologists play in the healthcare system. Radiologists – in person again – are being seen more, heard more, and are striving to be better understood.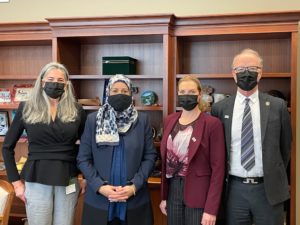 This year, the CAR partnered with the Canadian Association of Medical Radiation Technologists (CAMRT), Sonography Canada, and the Canadian Cancer Survivor Network to develop recommendations to address the medical imaging crisis in Canada.
The CAR invited radiology leaders from across Canada to Ottawa to meet with ministers, MPs, and Senators to discuss our priorities for improving access to high quality medical imaging care for Canadians. Your radiology representatives represented the association with a high degree of professionalism and ease. We took 22 meetings with MPs from across the country from a range of political parties as well as Senators and various members of the Standing Committee on Health and Finance. We effectively communicated the CAR's top priorities for medical imaging now and in the future.
All three of the CAR's priorities resonated well and several MPs agreed to bring these items forward to leaders within their parties.
The CAR's "asks" for federal government investment focused on the following areas:
Invest $1 billion over three years for MI equipment to be distributed to the provinces on a per capita basis. In conjunction it is imperative that the government, working with radiology stakeholders, implement a health human resources strategy, including hiring more medical radiation technologists (MRTs) and sonographers to help support the increased equipment capacity.
Support the implementation of a national e-referrals program (clinical decision support) to equip referring health professionals with better access to MI guidelines, ensuring that patients receive the right imaging test at the right time.
Harness homegrown AI applications for the strategic prioritization of health human resources, technology, and infrastructure for MI in Canada.
MPs understood the significant impact of excessively long wait times for medical imaging and that Canadians deserve better. There was a clear understanding of our focus on health human resources and MPs also responded well to the need to develop a strategy for the implementation of new technologies to augment the services of radiologists. Some of the MPs offered to champion these initiatives and to write letters to the Ministers of Finance and Health with these requests. We were very pleased with the reception and are optimistic in terms of next steps as it pertains to the Canadian Health Transfer.
Going Forward
Over the course of the next few weeks we will be following up and requesting to appear before the Standing Committee on Health and Finance as we narrow into the budget consultations. It is essential that we keep the momentum going and the lines of communication open. We also received a significant amount of exposure on social media regarding these meetings. We would like to thank our CAR superstar members who stepped up to represent radiology in Canada.
As a radiologist, you too can become involved by engaging in grass roots advocacy in your community. We encourage you to reach out to your MP and to talk about how wait times for medical imaging is affecting patients. The more individuals we have communicating the same message the more successful we will be in our advocacy. We are here to help. Should you need tools or resources to assist you in your outreach efforts please contact us at: [email protected].
To read more about our recent advocacy efforts please visit our website.