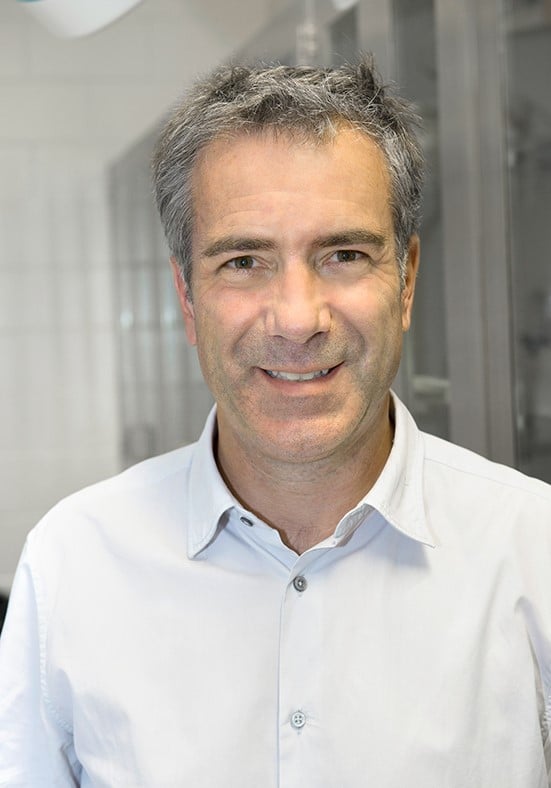 Dear Colleagues,
It is an honour to serve the radiology community and to represent the Canadian Association of Radiologists (CAR) on the national stage. I was fortunate enough to have had the opportunity to learn from my predecessors, Drs. Mike Barry, Emil Lee, Willie Miller, and Jacques Levesque during my term on the Board, and I plan to build on their success and accomplishments.
I would like to thank the membership for their confidence and to the CAR Board of Directors for selecting me to lead the Association. Over the course of my career, I have had the pleasure of working with many inspirational radiologists through clinical work, teaching, and research activities.
I was born in France but moved to Canada nearly 30 years ago in 1991. I am an interventional radiologist at the Centre Hospitalier Université de Montreal (CHUM) and a Professor of Radiology at the University of Montreal. This will be my sixth year of service on the CAR Board. During that time, I began to realize how the organization was able to promote excellence and shape the future of radiology in a positive way. During my tenure I have seen a lot of change and feel that we have progressed considerably as an organization. I attribute this success to our radiologist volunteers, my fellow Board members and the various Chairs of our committees and working groups.
The pandemic has been one of the biggest healthcare challenges that we have had to face in our lifetime, and I am truly impressed with the radiology community and how we have responded as a profession. In a time of crisis, we demonstrated leadership and tenacity and have strengthened our national Association's role as the leading expert for medical imaging in Canada as well as internationally. This resilience was possible because of our united voice with the provincial associations and subspecialty societies. Thank you to our partners and affiliate organizations.
As I embark on the Presidency role my focus will be on the CAR's five pillars for success: Advocacy, Education, Innovation, Patient Care and Engagement.
From an advocacy perspective we are advancing important recommendations at the parliament for our future regarding investment in new equipment. In addition, we are promoting implementation of AI and clinical decision support systems in our clinical practice.
Our online learning management, RAD Academy has been up and running for two years now and has over 115 high caliber education modules. This system has been instrumental in allowing Canadian radiologists to engage in continuing professional development.
The progress accomplished by the CAR Journal is astonishing. Thanks to the leadership of Dr. Michael Patlas and the editorial board, our impact factor increased to 1.7. The journal is an instrumental resource for education of all our members and trainees.
In 2021 we held our first ever Virtual Annual Scientific Meeting.  Also, under the leadership of Dr Patlas, this event was a huge success and outstanding educational opportunity for radiologists across the country. We are looking forward presenting an in person meeting in 2022 but will do it in a hybrid form to allow our members who cannot travel to attend the event remotely.
On the innovation front we have set our flag in the ground. Under the past leadership of Dr. An Tang and our new AI Standing Committee Chair, Dr. Jaron Chong, the AI working group has done a tremendous job in developing recommendations for the implementation of AI in our clinical practice and have recently introduced a new AI curriculum targeted to the radiology community.
Over the last 5 years the CAR has published nearly 15 guidelines to improve our practice and are rapidly advancing the expansion of our accreditation programs. We also developed 18 COVID related resources to help guide radiologists in their practice throughout the pandemic.
The CAR continues to focus on our members, to be more inclusive and enhance the value proposition of the CAR in making radiologists more successful in their practices. I would like to applaud the outstanding work from the Resident and Fellow Section as well as our members involved in the Equity, Diversity, and Inclusion Working Group.
As we move forward, an important priority for me is bilingualism. As a national specialty Association, it is crucial that we offer our communication and resources in both official languages. With the introduction of a new CAR bilingualism policy, we are making progress in this area.
Over the next few months, we will shift our focus to developing a strategic plan. This plan must be your plan and we need your feedback and involvement. This is your Association, and you have the power, with the support of the CAR, to shape the future of imaging for better practice to provide the best care for patients.
I am excited to start this new chapter of my life and to lead the Association as we continue to grow. I am truly humbled to serve you as the President of CAR.
Sincerely,
Dr. Gilles Soulez
CAR President