Dear Members,
In the face of the COVID-19 pandemic, I am proud of the way that so many individuals in our community have stepped up to answer the call. Our members have been a part of pandemic preparedness at their hospitals and regional health authorities and are helping to provide direction through national guidelines.
As your national specialty society, the CAR is working with affiliate societies like the Canadian Society of Thoracic Radiology as well as partners like the Canadian Society of Breast Imaging and the Canadian Association of Interventional Radiology to develop guidelines and recommendations for the management of COVID-19 in medical imaging. Community leaders, Drs. Gilles Soulez, Carole Dennie, Jean Seely and Amol Mujoomdar all came forward and devoted their time to establishing these resources. The first CAR's response to the pandemic was initiated by the CAR Annual Scientific Meeting Chair, Dr Michael Patlas. Michael was proactive and now we know that we made the right decision in cancelling the annual meeting. I am happy to say that almost all our speakers have confirmed for April 2021 in Montreal. The CAR Journal also lead by Editor-in-Chief, Dr Patlas has published some exceptional and timely COVID-19 articles. These articles have been received with enthusiasm in the community with one article, CT Imaging and Differential Diagnosis of COVID-19 with almost 10,000 views.
CAR Board and governance – responding admirably and meet regularly, at a distance
The CAR board has been meeting weekly to respond to immediate challenges such as cancelling the annual scientific meeting, the development of pandemic DI guidelines as well as longer-term issues related to advocacy. There have been regular executive teleconferences, chaired by Dr. Carolyn Flegg, as well as board meetings where all your board members have responded in both a thoughtful and timely manner. In the coming weeks, the CAR Board will continue to meet often through online meetings. The April board meeting will go ahead virtually on April 18th. A date for the Annual General Meeting will be set in the next month. I want to assure you that the 2019 audited financials are all in order, were reviewed and unanimously approved by the CAR Board. Dr. Ania Kielar, Secretary-Treasurer and I have also met with our portfolio managers, Jarislowsky-Fraser to review the current and future status of our investments and reserves. Dr. Bill Chahal, CAR Resident Representative has led the charge on responding to the Royal College's decision to postpone the exams. I have also been in contact with leadership in the provinces. The CAR organized a teleconference with provincial radiologist associations on April 7th to talk about support for clinics as well as economic measures to help members. Now more than ever it is important that we support one another.
Advocacy – regular contact with Health Canada as well as Finance Canada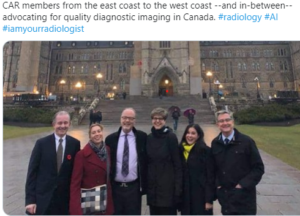 Over the last couple of years, the CAR has made great strides on the advocacy front. Radiology is being seen more, heard more and better understood in Ottawa with Members of Parliament as well as the senior civil service. It is due to this foundational work that channels to Health Canada are open at his critical time.
These channels have provided advice for our guidelines as well as connecting regions with equipment shortages. In the medium term, there are projects that are being developed to ensure that the community is better prepared with sufficient equipment as well as human resources to preserver during challenging times such as a pandemic.
We are also working on advocating for both tax and spend measures to help members who are facing a dramatic drop in work. Working with our partners, MDFM and MNP (fully subscribed) we hosted webinars for members on the tax and economic measures as well as financial markets outlook and planning during COVID-19. A recording of these webinars is now available for members only on our website.
We are also in contact with the medical imaging team member associations: CAMRT, COMP, Sonography Canada, Nuclear Medicine and of course CAIR.
CAR office operations – continues and responding in a timely manner
The CAR office staff are fully working from home. There has been little to no interruption in the regular operations as measures had already been put in place for staff to work remotely. The office is safe and sound. Regular video conferencing is also in place. Finance is being conducted online. Thanks to the CAR team for being there for the board at night and on weekends as we work to respond to requests from the community in a timely manner.
The MAP continues to process regular accreditation applications while preparing to launch a fully online system. MAP is currently accrediting approximately 670 mammography systems across 580 facilities. We have been using a zero-footprint DICOM viewer – SYROS Imaging for approximately a year and it is working very well. We are poised to launch an online version of the accreditation program.
RAD Academy – we have already included online COVID-19 content including Dr. Dennie's COVID-19 presentation and we are ramping up activity in response to more online-based CPD. We are re-investing in our education offerings to meet the needs of our members as we all do our part to stay home during the pandemic.
We have shared the results of two member surveys so that we can better respond to what's happening in your community. One suggestion that came out of the survey was to offer STATDx for 18 months rather than six months and we have been able to offer this to members. We know that you are all going through a significant drop in income. As noted above we arranged two webinars with our partners MNP (tax and economic measures) and MD Financial (financial markets outlook + personal finances) for our members to best weather the C-19 storm.
Final thought – we have weathered storms before and have the resilience to do so again
The CAR has been in operation for 83 years. There have been ups and downs including a world war. Radiology and radiologists have weathered these storms before, and we will endure it together, again. Our governance and lead volunteers are fully committed, and we have resilient policies in place to sustain us through this challenge. Over the next few weeks, I would encourage you to reach out to your colleagues who may need a hand. We are all stronger together.
Dr. Mike Barry
CAR President