In late November 2021, the Radiological Society of North America (RSNA) returned to Chicago to host their annual meeting and it was a success. In 2020 the RSNA opted to cancel the in-person component of their annual meeting, offering an exclusively virtual event. This was done for safety reasons and to minimize the spread of COVID.  This year with most of the [physician] population having been vaccinated, the RSNA felt it was safe to return to in-person networking, while also offering a virtual component. Several Canadians attended the meeting, and their experience was positive. We had the opportunity to connect with some CAR members who provided us with a recap of their experience.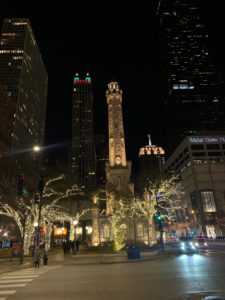 Dr. Gilles Soulez, CAR President, described the event as lively and dynamic. "The McCormick Center was bustling with activity. The lectures were great, and I was very encouraged to see so many people in attendance. Even with everyone wearing masks and the additional safety protocols, there was a strange sense of normalcy. It was nice to have the opportunity to network with colleagues in person again."
There were approximately 20,000 people in attendance. This is less than half of the regular attendance, however it is a good step forward and a hopeful indication of future events.
Dr. Bruce Forster, CAR Member and the Canadian Radiological Foundation President, came directly from Monaco, where he was attending another conference, to the RSNA. He describes his travel experience as uneventful. "When I landed in Chicago the city looked great, with the usual holiday dressings. The weather was fantastic and mild, even the wind behaved. Inside the McCormick Center, the RSNA was very well organized. All attendees had to submit proof of double vaccination in advance so that participants could move with ease through the event, without multiple checkpoints. Masking indoors was required and strongly enforced. The lectures I attended were at least half full and sometimes standing room only. Exhibition floors were quiet on Sunday but busy on Monday and Tuesday. Social events were fewer and smaller, which was expected given the reduction in the number of attendees." Dr. Forster indicated that Chicago was doing well in general with masking, even outdoors, but restaurants did not require a vaccine passport, which is a requirement in Canada. Returning home was no issue either. McCormick Center offered PCR testing, which made it more convenient for participants to be tested 72 hours prior to their flight. Dr. Forster indicated that there was some anxiety for Canadians in Chicago with the arrival of the Omicron variant, however, they supported each other with the latest information. The overall feeling from people that Dr. Forster connected with was that they were happy to be together again and felt comfortable. Dr. Forster indicated that he plans to attend the CAR 2022 Annual Scientific Meeting in person. Travel should be much easier within Canada, and it will be a fantastic occasion to connect with members of the Canadian radiology community and enjoy high caliber educational content.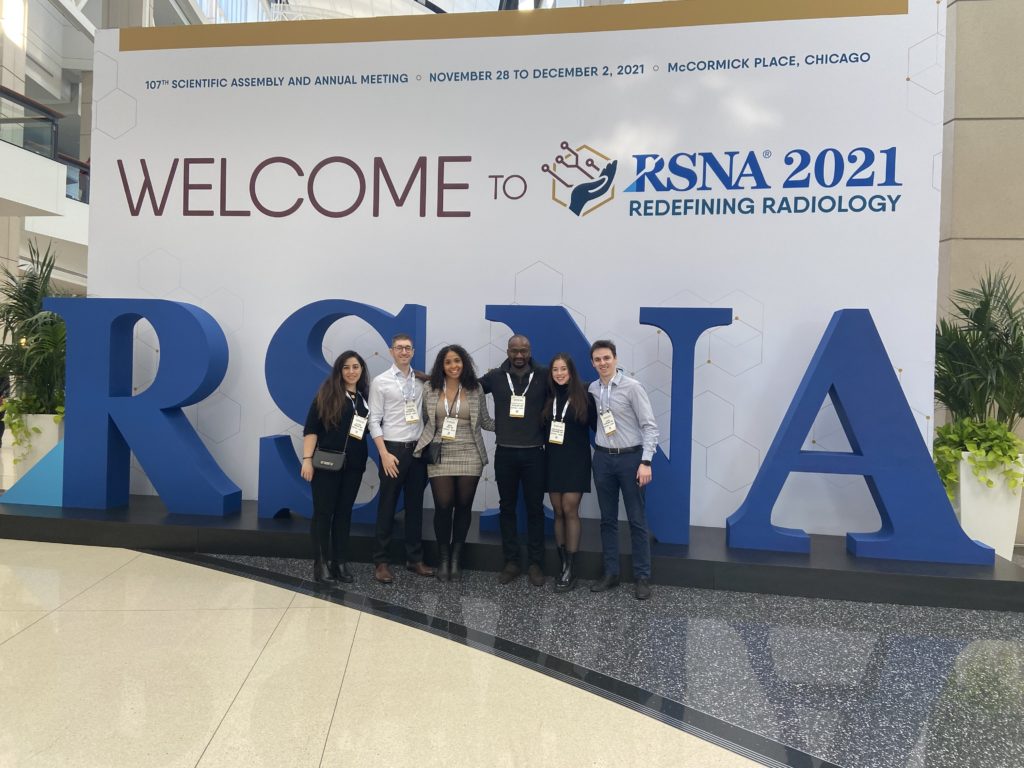 Dr. Kiana Lebel, a PGY-1 resident and CAR member, was initially skeptical about attending the RSNA in person, however she decided to give it a shot with five of her classmates from the Université de Montréal. Since she was presenting an educational exhibit, she decided it was worth the trip and was so glad she did. Logistically it was more challenging given all participants required a negative COVID PCR test to travel both to and from Chicago. Once they arrived, Dr. Lebel described the experience as "hassle free". Just like in previous years, there were free shuttle buses that allowed her and her peers to travel easily to the McCormick Center. When they arrived at the conference, all they had to do was show their proof of vaccination and were good to go!
Dr. Lebel describes her experience as positive. "Overall, my experience at RSNA 2021 was incredible! I was able to attend some amazing lectures and meet many inspiring radiologists and residents at the social events like the Canadian Radiology Women event. RSNA 2021 also allowed my co-residents and I to bond and spend quality time in the beautiful city of Chicago. RSNA 2021 gave me hope for future in-person events and I am excited for the CAR 2022 ASM, where I hope to connect with members of the Canadian radiology community. The best thing about conferences is the people you meet and the friends you make."
The CAR 2022 ASM will be a hybrid meeting with the in-person portion taking place at Le Westin Montréal from April 7-10. Be sure to mark it in your calendars and register at: car-asm.ca.