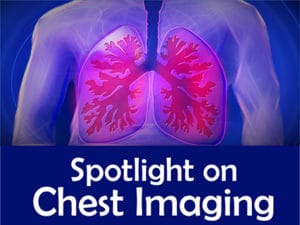 Given the heightened awareness on chest imaging as it relates to patients presenting with signs of SARS-CoV-2 infection, the CAR has curated chest educational activities, which are available on RAD Academy, CAR's learning management system. These learning activities are all eligible for Royal College Maintenance of Certification (MOC) credits. While the Royal College has waived all MOC Program requirements for 2020, any credits submitted will be counted towards the current six-year cycle.
COVID-19 Chest Imaging Activities
The Canadian Society of Thoracic Radiology (CSTR) and Canadian Association of Radiologists (CAR) recommend against the use of routine chest CT for screening, diagnosis, and surveillance of COVID-19 infection. The CSTR and CAR recommend chest CT in patients with confirmed COVID-19 infection who may have developed complications such as a lung abscess or empyema.
"It's important to limit chest CT imaging in patients with suspected or confirmed COVID-19 infection unless the imaging will affect patient management. We may overwhelm our CT imaging facilities leading to decreased access for patients who really need it, while putting our hospital staff and other patients at risk of infection." Dr. Carole Dennie, Radiologist at the Ottawa Hospital and President, CSTR
The following COVID-19-releated chest imaging activities are accessible in RAD Academy. They include an overview of common and uncommon CT imaging features of COVID-19 pneumonia, disease time course, and useful links.
COVID-19 Chest CT Findings: What You Need to Know
University of Toronto Medical Imaging Department: Medical Imaging Updates and Lessons Learned
CSTR/CAR Consensus Statement on Chest Imaging in Suspected and Confirmed COVID-19 (available in English and French)
Non-COVID-19 Chest Imaging Activities
The following non-COVID-19 chest imaging activities are accessible in RAD Academy. They include common imaging blunders and overview CT imaging trends in the emergency department.
Mistakes We All Make: Chest
Chest Imaging Traps to Avoid: Practical Tips for Busy Radiologists
Diffuse Airspace Disease on HRCT Chest: Practical Tips
Insights4Imaging: Retrospective Analysis of the Computed Tomography Pulmonary Angiogram Utilization Patterns in the Emergency Department