Incorporating Artificial Intelligence (AI) into the field of radiology is a significant priority for the Canadian Association of Radiologists (CAR), and one distinctive CAR member has plans to move the matter forward internationally. Dr. Bo Gong, CAR AI Standing Committee member and Editor-in-Training at the CAR Journal (CARJ), has been appointed to the Radiological Society of North America's (RSNA) AI Trainee Editorial Board for a two-year term that begins in January 2023.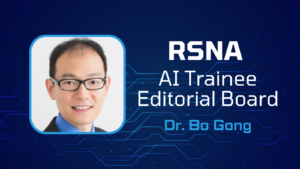 The AI Trainee Editorial Board offers an opportunity for members to participate in and learn about the peer review process, review manuscripts, and gain a better understanding of the review process for the journal Radiology: Artificial Intelligence. Dr. Gong is thrilled to be a part of the board.
"It is a great honour to be offered the opportunity to join the AI Trainee Editorial Board and work with many trainees with established research records from various clinical and technical backgrounds. I feel this is a recognition of my experience at the CARJ as an Editor-in-Training. I could not have achieved this without the support of the CARJ editorial team and Editor-in-Chief Dr. Michael Patlas."
The CAR has been a vocal proponent for integrating AI into the field of radiology, which Dr. Gong echoes. "Radiology has always been a medical specialty that embraced and benefited from technological breakthroughs, and I think AI will help advance our specialty in a similar way. I believe that meaningful AI solutions arise from clinical needs, and it is important that we in radiology take a lead in AI development that will eventually improve patient care."
On an individual level, Dr. Gong says he has lots to gain from the next two years of working with the board. "The Radiology: Artificial Intelligence journal publishes the latest results at the frontier of radiology AI research and has a broad audience in both radiology and technical communities. I hope I can make good use of this experience to connect with radiology AI researchers and develop a good understanding of the current state and future opportunities in this field, especially in the context of Canadian radiology."
Radiology: Artificial Intelligence was established in 2019 and highlights emerging applications of AI in diagnostic imaging across multiple disciplines. The review and publication processes for the journal are labour intensive and Trainee Editorial Board members are heavily involved.
"Trainee editors are expected to review articles monthly and participate in monthly teaching sessions that cover a wide range of topics such as article reviewing, statistics, ethics, and work-life balance," says Dr. Gong. "We are still discussing personal projects with the journal, but I am hoping to explore how AI solutions are adopted in radiology practice, especially to understand the perspectives of different stakeholders, such as researchers, industry, regulatory bodies and radiologists as end users."
The CAR is grateful to Dr. Bo Gong for his work in promoting AI in radiology and is excited to follow his work with the RSNA AI Trainee-Editorial-Board.