Life as a Radiologist with the Canadian Armed Forces: Cdr Giang Nguyen, Chief Radiologist
For Commander (Cdr) Giang Nguyen, member of the CAR and British Columbia Radiological Society, working as the Chief Radiologist with the Canadian Armed Forces (CAF) provides the opportunity to do humanitarian work domestically and internationally. It is not widely known that radiology is a deployable medical specialty. When not deployed on an operation, radiologists with the CAF are embedded within civilian practice, providing care much in the same way as other radiologists within a hospital or community setting.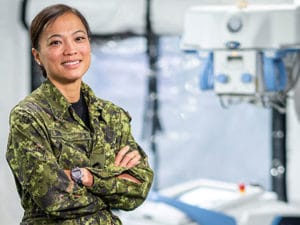 The decision to join the CAF was straight-forward for Cdr Nguyen. Both her parents served in the Vietnamese army and she was always drawn to the military. When she told her parents she was joining the CAF, her mother broke out in tears. Her dad, on the other hand, pulled her aside and said, "That's my girl." Joining the military is a personal decision that is not for everyone, but Cdr Nguyen feels it is important to highlight the possibilities for radiologists within the CAF and to ensure the perspectives of radiologists are seen and heard within the CAF.
The CAF attempt to maintain four to five practicing radiologists, but this is a challenge due to attrition. There is currently one other practicing radiologist in addition to Cdr Nguyen and two more in training. There are also two officers in the reserves that were past radiologists with the CAF. Currently, most radiology is provided remotely. Since active military radiologists are sparse, the CAF hires civilian contractors for in-garrison work. All studies performed domestically, and even some performed internationally, are sent to one database in Borden, Ontario and are read by contractors based in Halifax. There is also a group in Valcartier, Quebec that reads the French material. If there are security concerns with sending image files, a large time lag associated with image transfer, or it is a long-term operation, radiologists will be deployed to a local theatre.
Radiologists with the CAF have been deployed to Lebanon to help with Syrian immigration, to Haiti following the 2010 earthquake, and to Kandahar, Afghanistan in the campaign against terrorism. It has been 10 years since a radiologist has been deployed on an operation. Cdr Nguyen herself served in Kandahar as a family physician and recounted the extreme and harsh conditions where she saw patients exposed to unimaginable trauma and diseases you would not see in developed countries such as tuberculosis that affects the spine, parasitic diseases, and other conditions related to poor sanitation and nutrition.
Dr. Dan Lindsay, a civilian radiologist based in Manitoba, spent 19 months in theatre in Kandahar between 2006-2011. Radiologists were fully embedded with the clinical team and their contributions were visible and valued. He described the excitement and enthusiasm working with medical specialists from around the world on the one hand to witnessing and treating extreme trauma and serious injuries on the other. To reconcile these opposing states, medical personnel working in intense environments possess a very high level of flexibility, commitment, and passion.
"People are there because they want to be part of something bigger than themselves," says Dr. Lindsay.
The CAF recognizes the mental stress of being in these situations and provides considerable, and widely accessible support, including a buddy program, social workers, mental health screening, leave systems, follow up and check ins. This is a significant shift from the historical practice of denying the mental toll of this type of work and is an attempt to de-stigmatize mental health in response to post-traumatic stress disorder and suicides among personnel.
The COVID-19 pandemic necessitated a shift in radiology within the CAF, just like it did worldwide, and the CAR guidelines and position statements have been invaluable in this context. At the outset of the pandemic, the CAF had set up a dedicated imaging system for COVID-19 patients, but this was adapted once the CAR released imaging guidelines. The CAF played a role in the quarantine and care for Canada's first COVID-19 patients, repatriation of COVID-19 patients, and testing crew that may have been exposed.
Anticipating where the practice of radiology may lead, Cdr Nguyen sees great promise for artificial intelligence (AI):
"It's very exciting actually! The CAF hope to be a leader in this field. AI can assist clinicians when there is no radiologist on hand to give them confidence in what they are seeing."
Cdr Nguyen is passionate about radiology and believes in the CAF; it is a winning match.