Learn More with the Latest ILD Masterclass Webinar: Smoking-Related Lung Disease
As new therapies and guidelines become available, the of role radiologists in assessing Interstitial Lung Disease (ILD) is crucial and the demand for this learning is increasingly popular among the radiology community. As leading experts in thoracic radiology, the Canadian Society of Thoracic Radiology (CSTR) identifies this as a critical area for both seasoned radiologists and trainees and presents the next session in the ILD Masterclass series: Smoking-Related Lung Disease.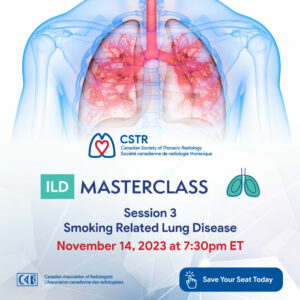 Join Dr. Carolina Souza (University of Ottawa) and moderator Dr. Scott Adams (Royal University Hospital, Saskatchewan) on Tuesday, November 14 for the next webinar in the ILD Masterclass series: Smoking-Related Lung Disease.
ILD assessment, utilizing high-resolution CT (HRCT), is a key driver of diagnosing and managing patients with lung disease. These entities are relatively rare, however, and the overlap of imaging features between interstitial entities can be substantial. This session will discuss the definition and current classification of smoking-related lung diseases, including smoking-related interstitial lung diseases and emphysema. Using a case-based format, the HRCT appearances and differential diagnoses of these diseases will be reviewed, with emphasis on relevant radiological information and the role of the radiologist in their diagnosis and management.
Through an unrestricted educational grant from Boehringer Ingelheim, the CAR and the CSTR are building on the success of its first ILD Masterclass series in 2022 with the development of three new webinars, providing participants with insights into key clinical and imaging features of ILD that can be applied in everyday practice The latest ILD Masterclass sessions are aimed at improving the Canadian radiology community's knowledge of ILD and helping to interpret images for diagnosis and follow-up assessment. It builds on the practical applications and imaging guidelines demonstrated in the previous masterclass series and focuses on pathologies and concepts not discussed last time.
Save this event in your calendar and earn Royal College MOC credit!
When: Tuesday, November 14 at 7:30 pm ET
---
Did you miss the first two sessions from this series? Or maybe you want a refresher. Check out the recorded sessions as well as the 2022 ILD Masterclass series on RAD Academy:
Stepwise approach to ILD: Is this Usual Interstitial Pneumonitis
Hypersensitivity Pneumonitis: Applying the 2020 Guidelines as a Radiologist
Connective Tissue Disease ILD: Is this NSIP or Something Else?
Don't have access? Contact [email protected] to set up an account and register today!