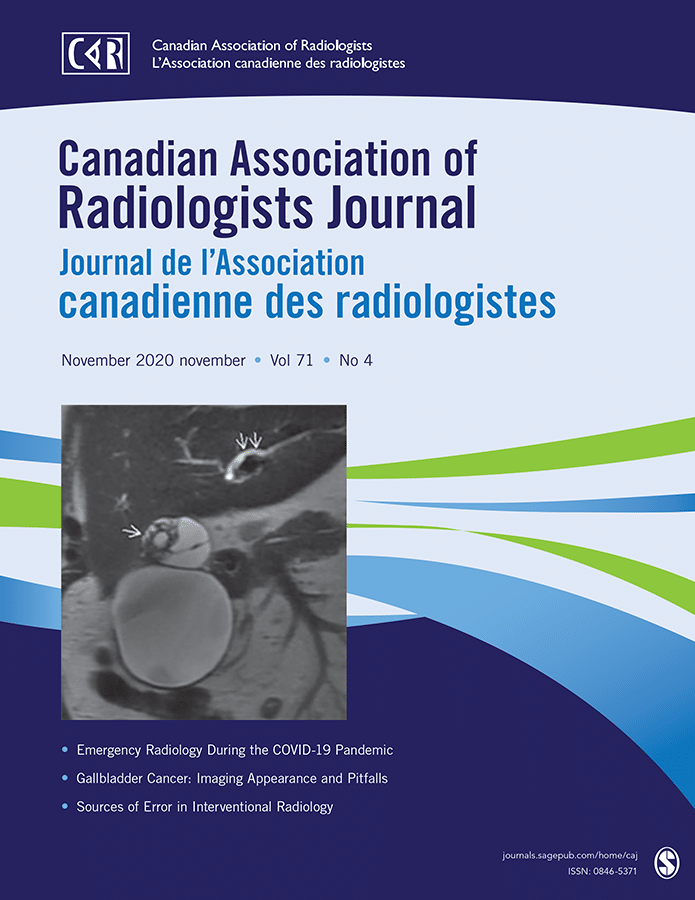 The November 2020 issue of the CARJ is now accessible online for CAR members. Check out the issue today, and don't forget to follow the CARJ on Twitter for ongoing updates about new articles-in-press, and radiology research across Canada.
November 2020 Highlights
Crisis Leadership During and Following COVID-19
Recommendations for the Management of Incidental Hepatobiliary Findings in Adults
COVID-19: Safe Guidelines for Breast Imaging During the Pandemic
CAR/CSTR Consensus Statement Regarding Chest Imaging in Suspected and Confirmed COVID-19
Avoiding and Managing Error in Interventional Radiology Practice: Tips and Tools
A Pilot Study on Diagnostic Radiology Residency Case Volumes from a Canadian Perspective: A Marker of Resident Knowledge
Upcoming Insights4Imaging Modules
Insights4Imaging modules will be available on RAD Academy in early November. Stay tuned for the release date and get a head start by reading the following articles:
Gallbladder Cancer: Imaging Appearance and Pitfalls in Diagnosis
Soft Tissue Lesions with High Vascular Density on Sonography in Pediatric Patients: Beyond Hemangiomas
Sources of Error in Interventional Radiology: How, Why, and When
Reminder to CAR members: For full access to the journal, you must be logged in to the CAR member portal and have clicked the CAR Journal button (before clicking article links). For more information, please click here.