In 2017, the CAR issued a clinical practice guideline through an expert panel of assembled radiologists and nephrologists studying the use of gadolinium-based contrast agents (GBCAs) in patients with acute kidney injury (AKI), severe chronic kidney disease (CKD) or on dialysis. The rationale for the initial guideline was to acknowledge the mounting evidence indicating that nephrogenic systemic fibrosis (NSF), a debilitating and feared systemic sclerosing condition with no known effective treatment and linked to the use of GBCA in patients with renal impairment, was exceedingly rare or unreported when using macrocyclic GBCA and newer linear GBCA products (e.g. gadobenate dimeglumine and gadoxetic acid).
Subsequently, a subcommittee of the initial clinical practice guideline working group, chaired by Dr. Nicola Schieda, was assembled to perform a comprehensive review of the literature to audit the 2017 clinical practice guidelines and highlight key important changes. The figure below highlights important updates to CAR clinical practice guideline regarding the use of gadolinium-based contrast agents in renal dysfunction.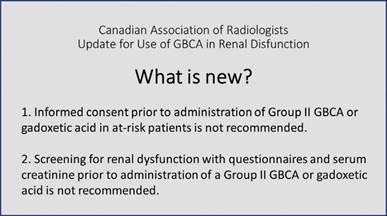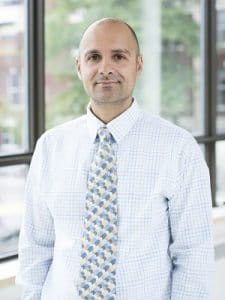 "The goal of the initial CAR Clinical Practice Guideline (CPG) on use of GBCA in renal impairment was to increase awareness among Canadian radiologists regarding the exceedingly low risk of NSF in patients receiving macrocyclic and newer linear (e.g. gadobenate dimeglumine and gadoxetic acid) GBCAs even when administered to patients with renal impairment or on dialysis. The CPG hoped to lessen undue fears over NSF among the Canadian radiology community and to provide access to patients who needed GBCA-enhanced MRI with renal impairment. One of the criticisms of the initial CPG was that "we didn't go far enough", in that, the CAR CPG differed from the American College of Radiology (ACR) Manual on Contrast Media which suggested that screening for renal impairment in the outpatient setting when using an ACR Group 2 agent was no longer recommended. The recent conclusions of our subcommittee support the recommendations put forward by the ACR and the CAR's CPG is now aligned with the ACR position. We hope these changes simplify radiology practices across Canada, reduce cost and improve access of patients to GBCA-enhanced MRI when deemed medically necessary" – Nicola Schieda, MD, FRCPC
The updated guideline is available in the August 2019 issue of the CAR Journal and will be featured in an upcoming module on RAD Academy, the CAR's learning management system dedicated to continuous learning for radiologists.
Dr. Schieda has been instrumental in updating this guideline. He is well versed in the science pertaining to gadolinium deposition and was featured on CBC's the National, the World at Six and CBC Radio Edmonton from August 7-9, 2019, acting as the primary spokesperson for CAR and radiologist across Canada.