Meet one of the CAR's newest board members representing Ontario, radiologist, Dr. Carlos Torres. Dr. Torres is an Associate Professor of Radiology at the University of Ottawa, Faculty of Medicine and a staff neuroradiologist at The Ottawa Hospital. Before joining uOttawa and the Department of Diagnostic Imaging at The Ottawa Hospital, Dr. Torres completed a two-year Neuroradiology Fellowship at McGill.
He is a member of the Royal College Neuroradiology Examination Board, a member of the Royal College's Specialty Committee in Diagnostic Radiology as the National Speciality representative for the CAR and the former Program Director of the Royal College Accredited Neuroradiology Fellowship Program at uOttawa, a position he held from 2010 to 2016.
Dr. Torres is the President-elect and the Chair of the International Scientific Committee for the Ibero Latin American Society of Neuroradiology (SILAN), a member of the Executive and Organizing Committee of the European Course of Diagnostic and Interventional Neuroradiology in Latin America ECNR-LATAM, a member of the Organizing Committee of the 2022 World Federation of Neurological Sciences WFNRS Symposium Neuroradiologicum, in New York and the Director of the Neuroradiology Chapter for the Interamerican College of Radiology. In addition, Dr. Torres serves in multiple committees for the RSNA, ARRS, ASNR, ASSR and ASER.
Dr. Torres has been the Director of multiple CME Courses in Europe, North America and Latin America. He has given more than 300 national and international invited lectures in 25 different countries and is regularly invited to speak at all the major Radiology and Neuroradiology Meetings including RSNA, ARRS, ISMRM, ASNR, ESNR, ASSR, ASHNR, ASER, ENRS and CAR, on a wide range of Neuroradiology topics. Dr. Torres is an International Visiting Professor for RSNA, ASNR, ARRS and the Interamerican College of Radiology (CIR). He has been a  National and International Visiting Professor to multiple academic centres in the US and Canada as well as in Asia, Central and South-America, including Brazil, Colombia, El Salvador, Chile, Bhutan, China, Myanmar and Mongolia.
Dr. Torres is actively involved in medical education and research; his main areas of interest include vascular pathologies, demyelinating disease, brachial plexus imaging, spine and tumour imaging. He has multiple peer-reviewed publications and has written 18 book chapters. He is an Associate Editor of the Canadian Association of Radiologists Journal and the journal 3D Printing in Medicine, as well as a reviewer for multiple national and international journals including AJNR and European Radiology.
He has received numerous departmental, national and international awards for his teaching and research including undergrad teacher of the year award, fellow teacher of the year award and the 2017 RSNA Honored Educator Award.  In 2017, he received the National Order of Merit Award in the Rank of Officer from the Republic of Colombia (equivalent to The Order of Canada) for his scientific contributions in the field of Diagnostic Neuroradiology and he was appointed as Distinguished Professor of Radiology at Henan Provincial People's Hospital, Zhengzhou University in China. Most recently, he received the 2018 Anne G. Osborn ASNR Outreach Professor Award to represent the American Society of Neuroradiology in Myanmar and he was selected in 2019 as Outreach International Visiting Professor to represent the ARRS in Valladolid, Spain.
Travel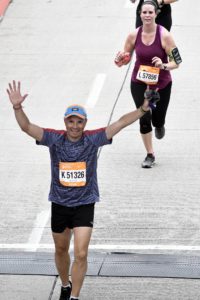 Dr. Torres has travelled his entire life, beginning with his first international trip alone when he was only eight years old. His journey spanned from Bogota to Paris, where he was received by friends and family. After his time in Paris and northern France, he gained the confidence and passion to travel and learn all that he could of other cultures. Throughout his childhood, he lived in Canada, the USA, Egypt and Israel.
These globetrotting experiences bourgeoned another interest in Dr. Torres: language. As a by-product of his travels, he developed fluencies in French, English and Italian in addition to his mother tongue, Spanish.
Nowadays, Dr. Torres continues to travel with his family for leisure and business as an invited speaker in every corner of the world. It gives him great pleasure to meet new friends, reconnect with all friends, network and mentor new generations of radiologists.
Sports
Dr. Torres has always been very active. In school, he was a stellar athlete partaking in multiple sports. During his military service, he represented the army in basketball, soccer, swimming and track and field. He also played varsity soccer in university. For the last 16 years, Dr. Torres has run many marathons and half-marathons along with his wife Pilar who is also an avid runner, in Ottawa, Montreal, Chicago, Orlando, Bogota and Berlin. He is also an avid hiker and has journeyed across many scenic routes in Canada, the USA, Colombia, Bhutan (featured image) and China.
If that wasn't enough, Dr. Torres's leisure activities include snowshoeing and downhill skiing on the weekend. His 13-year-old son skis competitively, so they both are often outside in the winter embracing Canada's signature season.
Dr. Torres is currently training to run the half-marathon in Madrid, at the end of April.