Taking care of the environment is an internationally shared responsibility, and Dr. Kate Hanneman recently discussed some key actions on the issue at the Journées Francophones de Radiologie (JFR) conference in Paris, France earlier this month.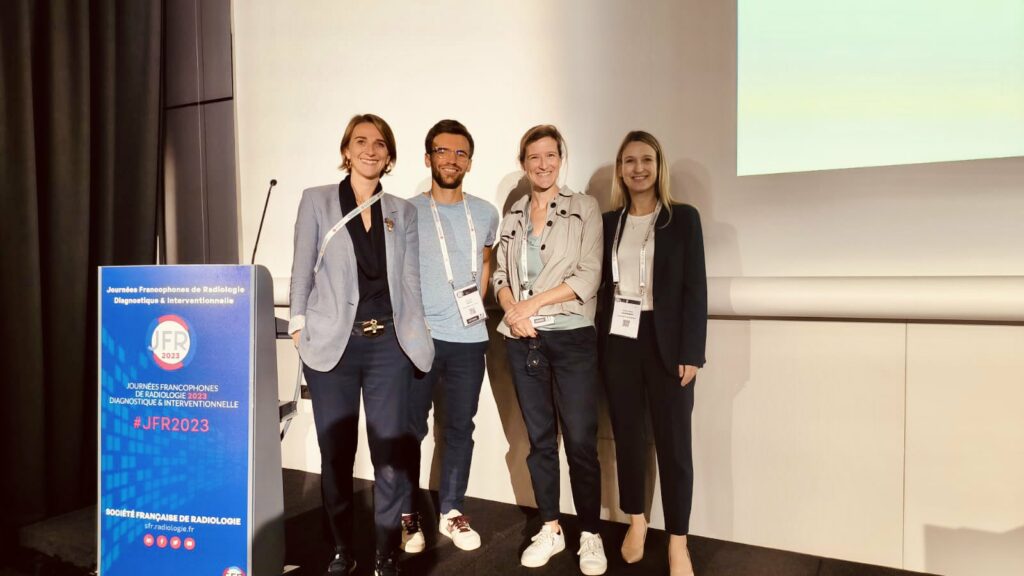 Dr. Hanneman presented an invited lecture as the CAR Rising Star representative titled Climate Change and Imaging: A Toolkit for Action. Her talk was given as part of a session on environmental sustainability in radiology, alongside three other experts on the subject, and centred on the impact of medical imaging on the environment.
Climate change impacts all of us but not everyone is affected equitably, her presentation noted, and medical imaging has a large influence on global greenhouse gas emissions. There are steps that medical imaging professionals can take to reduce emissions, but Dr. Hanneman stipulated that a vital component of bringing about change is collaboration between imagers, technologists, scientists, and vendor partners. Several key actions Dr. Hanneman discussed in her presentation were detailed further in the accompanying paper that was published earlier this year.
Dr. Hanneman says that presenting at an international conference was an incredible opportunity.
"The experience presenting at JFR was fantastic! I learned a lot from the other presenters, all of whom were from France and think that this type of knowledge exchange is very important to foster collaboration and to learn from others."
A hallmark of a quality presentation is the conversation it elicits, and Dr. Hanneman said there was lots of great discussion after her talk.
"I received several questions about the ongoing work I am leading on sustainability in radiology and as as co-chair of the CAR Environmental Sustainability Working Group. One of the topics we discussed was the need for further research to quantify emissions related to both diagnostic and interventional radiology and to measure the impact of interventions to address our environmental footprint."
Dr. Hanneman was not the lone CAR member who made the trip to France. CAR Past-President Dr. Gilles Soulez also attended and was named a Société Française de Radiologie (SFR) JFR 2023 Honourary Member.
Very happy to be in Paris with @CARadiologists for #JFR2023 🤗

Congrats to past 🇨🇦 CAR president @gsoulez as the @SFRadiologie JFR 2023 honorary member for his international leadership in #IRad 🎉👏🏻
Félicitations!! pic.twitter.com/CALPEKcThP

— Kate Hanneman (@KateHanneman) October 13, 2023
Dr. Soulez completed his residency and fellowship in Paris before moving to Canada in 1991. He is grateful to be named an honourary member and credits international collaboration as a way for him to develop working relationships in Canada.
"Since we had a lot of fellows exchange between my Canadian institution (Centre Hospitalier de l'Université de Montréal [CHUM]) and various French academic centers, we developed a very close collaboration between the Société Francaise de Radiologie, the Société Francaise d'Imagerie Cardiovasculaire, the CAR, and the Société Quebecois de Radiologie."
Dr. Soulez is hopeful to continue working internationally to benefit the field of radiology and patients around the world.
"When I was CAR President, I had the privilege to be involved in exchanges with concrete actions to improve training and research opportunities but also to share information on strategies to advocate for medical imaging. We plan future collaborations to exchange educational content on our learning management systems and strategies to improve quality through accreditation or audit of our imaging facilities."
We are grateful to Dr. Hanneman and Dr. Soulez for representing the CAR with dignity and for their incredible work in the field!