One of the world's premiere education conferences on neurovascular anatomy hosted another successful event, spearheaded in part by CAR member Dr. Karel G. ter Brugge and a team of colleagues.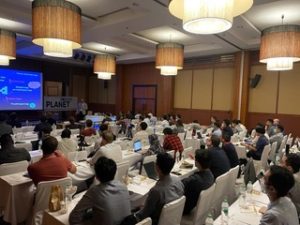 Dr. Karel G. ter Brugge is a Professor of Radiology at the University of Toronto and one of the Program Directors for the Pierre Lasjaunias Neurovascular Education Team (PLANET) Conference.
He says the first session of the event, held in Chiang Mai, Thailand, had 74 attendees who brought their expertise from all over the world -, when they often see around 60 participants.
"It was one of the better ones we have done," Dr. ter Brugge said. "The participants in attendance had a very high level of expertise overall, and consequently the interactive sessions were of high quality."
The event is directed towards Interventional Neuroradiologists, Endovascular Neurosurgeons, and Interventional Neuroradiologists. Event organizers have already received glowing feedback from the professionals who attended, he pointed out, with some commenting that the PLANET Conference was "second to none" and an "incredible academic feat" with well organized lectures and workshops.
"What makes the PLANET Conference unique is that the teaching of neurovascular anatomy is not done to this extent anywhere else in the world," Dr. ter Brugge said. "The faculty consists of experts from all over the world who deemphasize the role of the various tools of the trade – like catheters or stents glue. These are of course important but change all the time, while the goal of the PLANET Conference is to emphasize knowledge that is timeless."
Though the most recent session of the conference wrapped up in early November, Dr. ter Brugge says there is more to look forward to in the second session.
"The first session, which we just completed, is completely focused on the blood vessel anatomy of the brain, head, neck, and spine regions. The second session is clinical and focused on the understanding of neurovascular disorders presentation and management."
More information on the PLANET Conference and its second session, taking place in early April 2023, can be found online here.