On November 8, radiologists and professionals from related fields will celebrate the tenth International Day of Radiology all over the world. Let's celebrate together!
The International Day of Radiology is an annual event held with the aim of building greater awareness of the value that radiology contributes to safe patient care and improving understanding of the vital role that medical imaging professionals play in the healthcare continuum.
Medical imaging is one of the most exciting and progressive disciplines in healthcare and a field of great activity in terms of technological and biological research. X-rays, MRI scans, ultrasound and numerous other medical imaging technologies, as well as the eye-catching images associated with them, are known to many people, but the exact purpose and value of these services is not widely understood.
The European Society of Radiology (ESR) selected November 8, the day that Wilhelm Conrad Röntgen discovered the existence of x-rays in 1895, as a day of action and awareness. We hope to alert the world to the stunning medical, scientific, even artistic possibilities of medical imaging, and the essential role of radiologists in the healthcare team.
On November 8th the CAR will be celebrating our members. We offer our thanks to the thousands of Canadian radiologists, radiologists-in-training, medical radiation technologists, sonographers and medical physicists who make a national impact on patients across the country in providing lifesaving diagnostic and interventional imaging.
To commemorate this occasion, the ESR in collaboration with its international partners has developed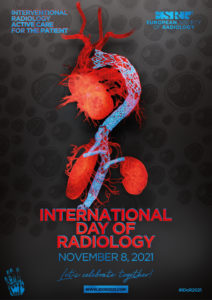 an electronic poster, which members can use on their social media profiles to promote this special day. The theme for this year is Interventional Radiology: Active Care for the Patient. As the world continues to face the challenges posed by COVID-19, it is extremely important to acknowledge the key role that medical imaging has in medicine, not only during unforeseen circumstances such as the pandemic, but also on a daily basis in all areas of patient care. Interventional radiology (IR) is a unique and growing subspecialty that helps and protects patients each and every day.
Our very own, Dr. Gilles Soulez, CAR President specializes in IR. Dr. Soulez is a vascular and interventional radiologist at the Centre Hospitalier de l'Université de Montréal (CHUM) in Montreal. He is currently Professor of Radiology at the Department of Radiology, Radio-oncology and Nuclear Medicine at the University of Montreal and Director of the Laboratory of Clinical Imaging Processing at the CHUM Research Center.
"I am impressed by the vitality of IR across the country. Numerous IR procedures were pioneered in Canada." said Dr. Soulez. When asked about Canada's role in progression of IR, he identified a few stellar examples. These include the Transhepatic Porto Systemic Shunt, introduced by Colapinto, the Development of Percutaneous Arteriovenous Fistulae from the University of Toronto, Pelvic Congestion Syndrome at University of British Columbia, New approaches for bile duct intervention and peripheral stenting at CHUM, treatment of vascular anomalies at CHUM and CHU St-Justine, percutaneous gastric bypass at McGill University, management of pain during embolization of uterine fibroids at University of Ottawa and the treatment of stroke by mechanical thrombectomy at University of Calgary.
The Canadian Association of Interventional Radiology, which Dr. Soulez is a member, has been instrumental in creating the new sub-specialty Interventional Radiology program accredited by the Royal College of Physicians and Surgeons of Canada. It allows residents to follow a dedicated path to obtain a dual certification (diagnostic and interventional radiology) for the benefit of patients.
Dr. Soulez has funded the research imaging platform at the CHUM Research Center and was involved in multiple preclinical and clinical research studies. His research program is dedicated to vascular and IR with a particular interest in the field of aneurysm endovascular repair, peripheral vascular disease, vascular malformations and advanced image guidance for IR procedures. Several new technologies such as guidance software for endovascular aneurysm repair are now transferred to the bedside and others such as new embolizing gels are on in the process of being transferred.
"The future looks brighter with the development of new approaches such as multimodal guidance techniques, combined with immunotherapy and use of robotics or nanorobotics. The interventional radiologist is now at the centre of the therapeutic decision in many diseases. The implication of IRs in dedicated clinics and hospitals to continue advancing patient care using IR techniques. A good collaboration between diagnostic and interventional radiology is more than ever necessary to consolidate these advancements in our daily clinical practice." said Dr. Soulez.
On November 8th let's celebrate together and recognize the hard work of our members, as well as other health professionals in the field of radiology.