On November 8, radiologists and professionals from related fields will celebrate the 11th International Day of Radiology all over the world. Let's celebrate together!
The International Day of Radiology is an annual event held with the aim of building greater awareness of the value that radiology contributes to safe patient care and improving understanding of the vital role that medical imaging professionals play in the healthcare continuum.
Medical imaging is one of the most exciting and progressive disciplines in healthcare and a field of great activity in terms of technological and biological research. X-rays, MRI scans, ultrasound, and numerous other medical imaging technologies, as well as the eye-catching images associated with them, are known to many people, but the exact purpose and value of these services is not widely understood.
The European Society of Radiology (ESR) selected November 8, the day that Wilhelm Conrad Röntgen demonstrated the existence of x-rays in 1895, as a day of action and awareness. We aim to alert the world to the stunning medical, scientific, and even artistic possibilities of medical imaging, as well as the essential role of radiologists in the healthcare team.
On November 8th the CAR will be celebrating our members. We offer our thanks to the thousands of Canadian radiologists, radiologists-in-training, medical radiation technologists, sonographers and medical physicists who make a lasting impact on patients across the country by providing lifesaving diagnostic and interventional imaging.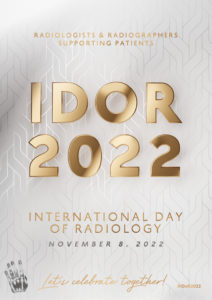 To commemorate this occasion, the ESR in collaboration with its international partners has developed an electronic poster, which members can use on their social media profiles to promote this special day. As the world starts to recover from the challenges imposed by COVID-19, it is extremely important to acknowledge the key role that medical imaging has in medicine, not only during unforeseen circumstances such as the pandemic, but also on a daily basis in all areas of patient care.
"Radiology plays such a key role in the healthcare continuum, whether it be in the diagnosis, treatment, or management of disease. It is important that we continue to advocate for better access to medical imaging for patients across the country, ensuring that they receive the best care possible. Working in collaboration with other health professions and building relationships in the medical community is how we can achieve optimum care for patients." – CAR President Dr. Gilles Soulez
On November 8th let's celebrate together and recognize the hard work of our members, as well as our health professional partners in the field of radiology.