The diligent work and genuine passion for radiology education from CAR member Dr. Linda Probyn is being recognized by the University of Toronto (U of T). She was recently awarded the Charles Mickle Fellowship at the U of T Temper Faculty of Medicine Awards.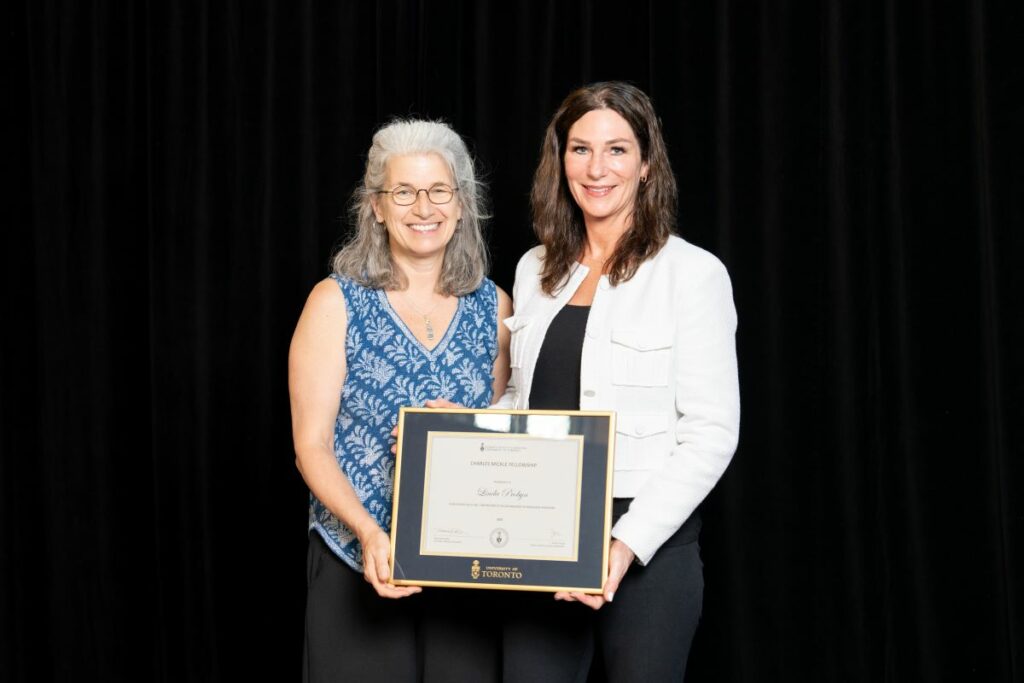 With so much of her work devoted to supporting learners as they progress through their rigorous education, Dr. Probyn says winning this award was pleasantly unexpected.
"I'm extremely honoured to receive this award," she said. "I certainly don't do the work I do for the awards and recognition, but rather I go about my business to enhance education and work with the amazing faculty and students around me. Education has been a passion for me ever since I was going through university and postgraduate training myself, and I feel lucky to have a desire to help others with their educational experience."
Growing up as a child of teachers, Dr. Probyn says engaging with learning and education has always been natural to her and has served her well at each stage of her career.
"Since I was a resident, I always put up my hand for anything education related, so now, it brings me so much joy and happiness when I see the success of the learners with whom I work, especially the ones who have had challenges along the way."
Much of her work in academia is not necessarily visible to everyone, she says, which is partially why receiving the award was so surprising.
"I spend lots of time behind the scenes listening to and observing learners, teachers, and leaders to identify gaps and find solutions. I love helping residents and fellows but also program directors to brainstorm and problem solve a given issue until we find a solution."
The Charles Mickle Fellowship is presented to candidates for advancing "sound knowledge through careful and thorough work," strengths that Dr. Probyn says have taken time and experience to develop.
"Sometimes I had to be unsuccessful and needed to learn from failures to create a better process for my work. Listening and observing others is critical, along with being careful and systematic in the work I do. I work best when I collaborate with others and always ask the opinions of those around me. It has taken time to understand what works best to help support our learners."
For students making their way through medical school, residency and fellowship, Dr. Probyn says she tries to offer advice that would have been helpful to her during her training.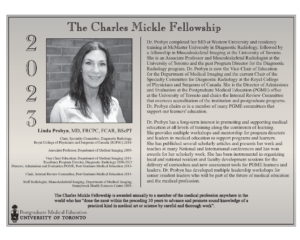 "One of the important factors for the success of our learners is to have or find a mentor because they can help you with things that aren't necessarily taught during training. As an example, understanding the business of radiology and how to set up a corporation and manage finances are not consistently discussed but are important when starting a staff position. I'm a big supporter of mentorship and I always try to tell students things I wish I knew at that stage in my life."
A key characteristic that will always serve you well, says Dr. Probyn, is to be actively engaged in your education and the network around you. There are so many opportunities, and she wants learners to capitalize on these experiences to help them in their future careers.
"Being inquisitive is an integral personality trait, especially in medical school, postgraduate training, and the early stages of your career. Communicating, being interested and participating are crucial; several times during my career the most important thing I've done is just raise my hand and got myself involved. This has led me to many opportunities and experiences in my career, for which I am thankful."
Congratulations to Dr. Probyn on this tremendous honour!