In light of the recent coverage in the media surrounding mammography quality, the CAR in collaboration with the Canadian Organization for Medical Physicists (COMP) published a position statement which references the CAR Mammography Accreditation standards for mammography imaging quality in Canada. The CAR recognizes that Canadian radiologists from coast to coast are committed to the highest standards of care and are distinguished as being world class clinicians.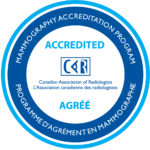 The CAR Mammography Accreditation Program (MAP) is a quality assurance program that supports Canadian mammography services. Technical standards have been adopted in partnership with COMP. These standards are based on internationally recommended best practices and have been upgraded over the last 25 years. MAP supports mammography services by compiling peer-reviewed evidence into standards and best practices.
Reading a mammogram is a highly complex task. Radiologists require in-depth training in breast imaging and continuing education once credentialed. The mammography equipment must be maintained to operate at the highest level. The resolution of the monitor used by the reporting radiologist contributes to finding the earliest signs of cancer and improves patient outcomes.
The specific issue being address in the position statement is the resolution of monitors used for reads. MAP requires all screening and diagnostic mammography studies to be interpreted from medical grade monitors which are calibrated annually. Specifically, MAP requires a minimum of two 5-megapixel or a single 8-megapixel (or greater) monitor. More information can be found in the CAR/COMP position statement.
Patient safety through continuous quality improvement is the objective of MAP. It is in everyone's best interest to ensure that, when a patient has a mammogram, it is completed in a manner that exposes them to the lowest possible radiation dose and risk, and ultimately results in an image that the radiologist can accurately interpret.
Facilities seeking accreditation by the CAR MAP are assessed for compliance in the four quality areas of the program:
Personnel Requirements: The RIGHT PEOPLE to conduct a quality examination and oversee the rendering of optimal diagnostic images.
Quality Control: The APPROPRIATE TESTS are completed through the implementation of a quality assurance program and monitored QC to ensure the acquisition and presentation of optimal quality medical images.
Equipment Specifications: The RIGHT EQUIPMENT operating in the manner it was intended.
Breast Image Quality: A SYSTEMATIC IMAGE ASSESSMENT by a qualified reviewer, ensuring the facility regularly evaluates the quality of its diagnostic images and the associated radiation doses.
These quality areas are assessed through the different stages of the accreditation process: the application, image evaluation as well as the maintenance of accreditation status and then the cycle begins anew.
Today, over 500 facilities enjoy the benefits of being accredited through the CAR, and this number continues to grow. To learn more about the CAR's MAP program please visit our website.