February 15 marked the launch of the CAR's national curriculum, "Artificial Intelligence in Radiology: Foundations to Current Applications." This initiative, championed by the CAR Artificial Intelligence (AI) Standing Committee, is the first and only curriculum of its kind to encompass the practical, technical, and ethical issues of AI integration into radiology from a Canadian perspective. Completing courses from this accredited curriculum will count toward your Royal College MOC requirements.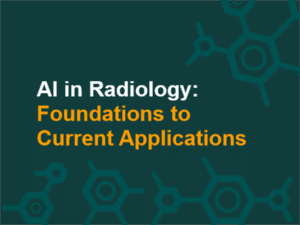 Who is this curriculum for?
This curriculum is available exclusively to members of the CAR. It is designed as a primer for radiology residents and other radiology trainees, as well as practicing radiologists and researchers with an interest in the integration of AI and radiology. Our aim is also to encourage the use and adoption of this curriculum by program directors of radiology departments.
Why do we need a national curriculum for AI in radiology?
Commercial AI applications have the potential to significantly impact the quality, reliability, and efficiency of medical imaging, from requisition to image interpretation, and reporting. Today's radiologists and future practitioners need to be prepared for the adoption of such products into their clinical workflow. This requires that they have the fundamental knowledge to grasp the inner workings of these systems. Our curriculum will provide you with the technical literacy necessary to communicate with data scientists and software developers, guide the direction of research to harness the most useful outcomes, and voice informed criticism when developments become decoupled from improved patient care.
What can you gain from this curriculum?
We designed this interactive curriculum to help you better understand the importance and effectiveness of AI in radiology, familiarize yourself with fundamental concepts of machine learning and deep learning neural networks, and hopefully prompt the creation of a plan for integrating AI into your workflow.
Drawing on the expertise of researchers and clinicians from across the country, we developed activities which delve into topics ranging from the fundamentals of AI to the research landscape and ethical aspects of AI in radiology. Our curriculum presents another opportunity for CAR members to earn Section 3 Self-Assessment Program credits.
How is this curriculum structured?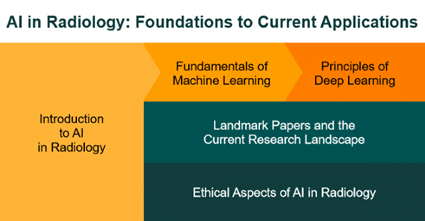 We divided this introductory curriculum into five courses, as depicted in the image. Each course and associated modules offer a variety of activities to help you achieve your learning objectives and ultimately shape the way that technology influences and impacts your work and role as a physician.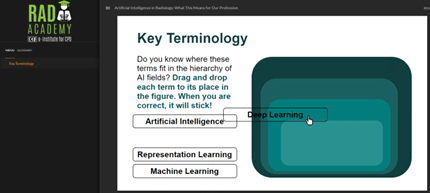 The format of these modules will vary depending on the content, and may deploy a variety of educational methodologies, such as guided readings, quizzes, reflections, videos, and interactive eLearning activities (see image of drag and drop example).
Where can I access this curriculum?
The first two modules are available on RAD Academy, and new modules will be released monthly, starting in March.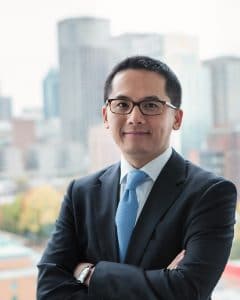 "Radiology is an innovative specialty that has a long history of embracing technological advances. This educational module—designed to be interactive and concise for effective learning—distills key concepts from the 2018 publication, Canadian Association of Radiologists White Paper on Artificial Intelligence in Radiology, including the hierarchy of AI fields, the role of AI in clinical workflows, and clinical use scenarios. Recognizing recent advances in computer vision, we illustrate tasks that are most likely to be automated and the anticipated impact on the work of radiologists. In a nutshell, we present a roadmap to the future of radiology," Dr. An Tang, Chair of the AI Standing committee.
Email us for access to RAD Academy.
Happy learning!