Prioritize Lung Cancer Screening Education as the next step in your training journey! The CAR and CSTR have developed accredited comprehensive educational content for radiologists focused on the imaging interpretation and reporting of lung cancer screening – QUEST: Introduction to Lung Cancer Screening.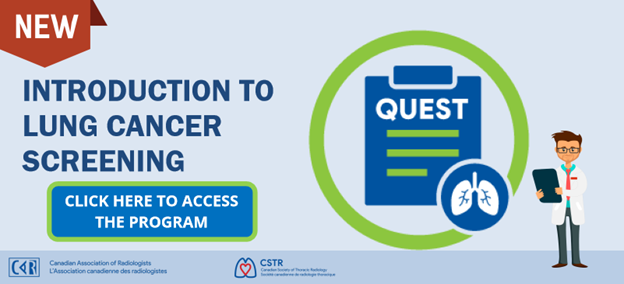 Through the Accelerating Lung Cancer Screening Program Development and Implementation Initiative funded by the Canadian Partnership Against Cancer (the Partnership), the CAR and its Affiliate Society the Canadian Society of Thoracic Radiology (CSTR) received an unrestricted educational grant to develop comprehensive educational content for radiologists focused on the imaging interpretation and reporting of lung cancer screening.
The QUEST Lung Cancer Screening Education prepares you to implement a comprehensive, multidisciplinary lung cancer screening program that applies a patient-centered approach to shared decision making, complies with best practices, and helps meet requirements for the CAR CT Lung Screening Accreditation Program.
By completing QUEST: Introduction to Lung Cancer Screening, participants will be able to:
Describe the background of low-dose CT for lung screening including benefits and harms and the most appropriate CT protocol.
Demonstrate an appropriate approach to solid, subsolid, endobronchial, and cystic nodules as well as incidental findings in the lung screening setting.
Apply an effective communication strategy for lung screening reports.
This accredited program, eligible for Section 1, 2 and 3 SAP Maintenance of Certification (MOC) credit, is designed for practicing radiologists interested in and/or whose work involves performing or interpreting images in the diagnosis of lung cancer screening.
"As lung cancer screening becomes widespread across Canada, the need for quality education materials becomes more and more obvious. The subtle but critical differences between interpreting diagnostic and screening CT should not be underestimated. For these asymptomatic and healthy patients, the public, and our clinical colleagues look to radiology to guide decisions and make the calls. We need to do all we can to ensure expertise. To have a national training program made by Canadian radiologists for Canadian radiologists, is so important. Congratulations to the Canadian Association of Radiologists on releasing the QUEST Lung Cancer Screening education program." Daria Manos, MD, FRCPC, President Canadian Society of Thoracic Radiology
The education program is divided into three parts featuring 10 didactic lectures, interactive multiple-choice question modules, as well as a live instructor-led case-based review session. Each course is comprised of two education activities: the didactic lecture and the interactive CME module.
PART I
Summary of Lung Cancer Screening Trials
Benefits and Harms of Lung Cancer Screening
LDCT Technical Requirements
Lung Nodule Characterization
PART II
Lung Nodule Classification and Management PRE-TEST, 20 cases and questions
Solid Nodule Evaluation Measurement and Follow-up
Subsolid Nodule Evaluation and Management
Atypical Pulmonary Cyst and Airway Nodule Evaluation and Management
Lung Cancer Screening CT Common Errors
Reporting of Incidental Findings
Communicating Screening LDCT Results
*Each activity is eligible for Section 2 and 3 SAP MOC credit. French versions of Parts I and II will be released TBD
PART III Coming Fall 2023! Eligible for Section 1 and 3 SAP MOC credit
Instructor-led case review (English and French)
Post-Test, 20 case questions
"QUEST is a crucial e-learning resource created by members of the Canadian Society of Thoracic Radiology to support you through and beyond the roll-out of Lung Screening programs across the country.  By the end of this program, you will be able to provide high quality and consistent lung screening CT interpretation that will positively impact the lives of Canadians." – Carole Dennie, MD, FRCPC, Chair, Lung Cancer Screening CPD Working Group
The CAR wishes to acknowledge the efforts and contributions of the members of the LCS CPD Working Group and Scientific Planning Committee:
Carole Dennie, Chair, University of Ottawa
Rawan Abu Mughli, University of Toronto
Valerie Astrope, North Island Hospital Comox Valley
Daria Manos, Dalhousie University
Jana Taylor, McGill University
Jacek Strzelczyk, University of Manitoba
All CAR members can access this complimentary education program. Don't have access to RAD Academy? Reach out to [email protected] to sign up today!