A selection of the brightest minds in radiology will come together in Montreal this spring to deliver plenary lectures at Canada's premiere radiology event – CAR 2023, the CAR's Annual Scientific Meeting.
Every year, the event attracts gifted radiologists to share their expertise on a breadth of topics that are relevant to the field. The theme for this year's Annual Scientific Meeting is Advancing Imaging Care Through Innovation and the lineup of plenary lecture speakers is stellar:
Dr. Jan Fritz (New York, NY) – Opportunistic MSK Imaging – April 27
Dr. Jeremy Erasmus (Houston, TX) – Imaging the Chest Post Radiation Treatment: What the Books Don't Tell You – April 28
Dr. Jorge Soto (Boston, MA) – Pitfalls in CT Imaging of the Abdomino-Pelvic Trauma – April 29
Dr. Carlos Torres (Ottawa, ON) – Treatment-Induced Neurotoxicity – April 29
Dr. Yiming Gao (New York, NY) – Abbreviated Breast MRI – State of the Field – April 30
Coming from New York, Dr. Yiming Gao says she is thrilled to make the trip north to network and learn from her Canadian colleagues and for the opportunity to impart key concepts of the breast MRI field to attendees. "I hope to convey the basic concepts in ultrafast imaging to illustrate the power of functional imaging and the importance of continued research in advancing techniques of fast MRI to improve breast cancer imaging."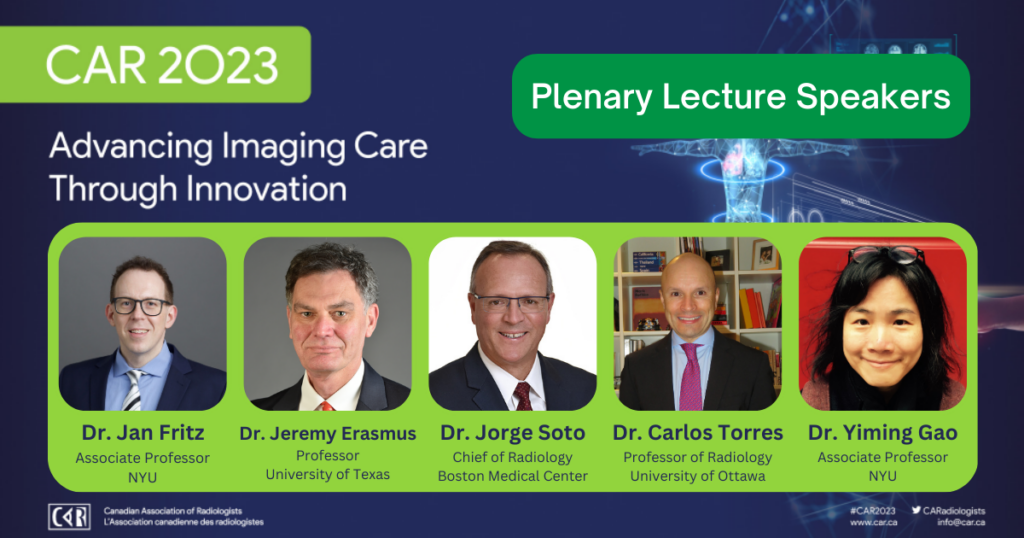 Dr. Gao says she plans to attend as many other educational sessions and plenary lectures as she can throughout the weekend and is especially looking forward to the Mistakes We All Make session on April 30, a perennial favourite.
Dr. Jeremy Erasmus brings his expertise in chest CT and hopes to update his listeners' knowledge of image interpretation and how immunotherapy can change the way an injury manifests on CT.
"Radiation therapy (RT) is a key component in the treatment of many patients with lung cancer and historically has been delivered using conventional fractionated external-beam radiation," said Dr. Erasmus. "However, there have been advances in the delivery of radiation dose for local tumor control of patients with intrathoracic malignancies with increasing use of high-precision dose techniques including three-dimensional conformal radiotherapy, stereotactic body radiation therapy, intensity-modulated radiation therapy, and proton therapy."
Coming to Montreal from Texas, Dr. Erasmus says he is looking forward to the people that make up CAR 2023. "I trained for many years in Canada and have not done as many talks there as in other countries. I know many people in the Canadian chest CT community. I'm excited to update relationships with old acquaintances and network with new colleagues."
With the provisional agenda now available online, you can find your favourite sessions and all that CAR 2023 has to offer. Register today.