From April 27-30, the CAR Annual Scientific Meeting returned to an in-person event and welcomed over 650 participants.  The meeting was hosted at a new venue – Le Westin Montréal and the theme for this year's meeting was Advancing Imaging Care Through Innovation. The standing-room-only event drew radiologists, radiology directors, fellows, residents, medical students, sonographers, and medical radiation technologists as well as industry vendors from across Canada. The weekend featured stellar educational sessions with expert speakers, engaging networking opportunities, an award ceremony that spotlighted a presidential transition, and many more amazing events.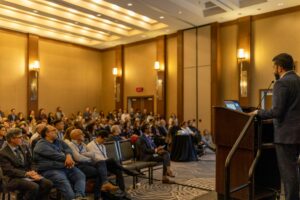 Here are some facts and figures from CAR 2023:
663 Delegates – a new attendance record
31 Industry Sponsors – sold out exhibit hall
117 Speakers and Moderators
88 Lectures and Educational Sessions
28 Research Presentations
106 Poster Presentations
24 Section 1 credits
106 Section 2 credits
18 Section 3 SIM credits
3 Section 3 SAP credits
1 Workshop
1 Accredited Symposium
Annual Meeting Education
There were so many excellent sessions. Some of the most memorable highlights of CAR 2023 included Photon-Counting CT in MSK Radiology: Opportunities and Limitations, the AI Fireside Chat with the Experts, the Accredited Symposium: SURPRISE! Incidental Findings in Lung Cancer Screening and the CAR Awards Ceremony. Other notable sessions included the long-standing favourite Mistakes We All Make, the abstract presentations, and the keynote lectures. These sessions focused on a variety of different modalities and were very clinical in nature. We were fortunate to have high caliber speakers from across North America. With the help of our Affiliate Societies, the Annual Scientific Meeting Planning Committee was able to deliver a program with a full breadth of information with multiple tracks over the course of four days.
MSK 'Touching Points'
The return of the in-person meeting also saw the return of the sought-after in-person, hands-on workshop. The Scientific Planning Committee did not disappoint with the development of the Essentials of Musculoskeletal Ultrasound Workshop, which featured 10 live models! Dr. Adnan Sheikh led a multidisciplinary faculty, participants, and live models through a series of 'shoulder-to-ankle' rotations covering the most important practical aspects of musculoskeletal ultrasound. Unrestricted educational grants by way of in-kind support from Philips Electronics Ltd. and GE Healthcare provided the opportunity for members to participate in live scanning demonstrations as well benefit experience plenty of hands-on practice. A special thank you to all our volunteer models for helping to support our radiology community!
Lunch N' Learn: Incidental Findings in Lung Cancer Screening
Thanks to an unrestricted education grant from Boehringer Ingelheim, CAR 2023 delivered an 'appetizing' session which brought together radiology and respirology to 'digest' incidental findings that can occur when screening for lung cancer. Participants in the accredited lunch symposium, Surprise!!! Incidental Findings in Lung Cancer Screening, were treated to a multidisciplinary case review, demonstrating how radiology and respiratory should work together to manage patients post diagnosis. Our three different specialities (radiology, respirology and oncology) shared their perspectives and practical real-life pearls to ensuring the best outcomes for patients.
Social Events and Networking
CAR 2023 provided many opportunities for networking. Attendees had the chance to participate in one of four receptions including the Agfa sponsored Radiologist-in-Training Reception, the Welcome Reception, sponsored by Hologic, the Vendor Cocktail as well as the CAR Awards Reception and Ceremony. The CAR 2023 app also provided a platform for participants to connect with one another and promoted engagement with sponsors through its Leaderboard and Passport contests.
Awards
Hosted brilliantly by Dr. Carlos Torres and Dr. Emil Lee, the CAR Awards were presented to outstanding members for their dedicated work and achievements. Awards were presented to current year winners and recent winners who did not previously have the chance to receive their award in-person. A highlight at this year's CAR Awards was the ceremonial presidential transition to incoming President and former Vice-President Dr. Ania Kielar from Dr. Gilles Soulez, who finalized his two-year term as CAR President and will continue to serve as Past-President, taking over for Dr. Michael Barry. Each of the former presidents in attendance gathered on stage for a customary toast to welcome Dr. Kielar to her first term as President.
CAR 2023 Award Winners
Gold Medal Award – Dr. Nancy Wadden
Distinguished Career Achievement Award – Dr. Iain Kirkpatrick
Young Investigator Award – Dr. Kate Hanneman
Fellowship of the CAR

Jeffrey Chankowsky
Tanya Chawla
Carolyn Flegg
Gilles Soulez
An Tang
Jana Taylor
Carlos Torres
Nancy Wadden
John Whelan
There were also many other awards given including the CAR Scientific and Educational Awards, CARJ, Canadian Radiological Foundation and Canada Safe Imaging awards. Congratulations to all of our winners.
CAR 2023 Awards Ceremony