The CAR would like to congratulate Dr. Elka Miller, who assumed the role of Vice-President of the Canadian Society of Pediatric Radiology (CanSPR) on September 1, 2022.
Dr. Miller is a Professor at the University of Ottawa who specializes in pediatric neuroradiology and imaging. She is also the Chief and Research Director of the Medical Imaging Department at the Children's Hospital of Eastern Ontario (CHEO).
Dr. Miller says she is thrilled to get started in her new role.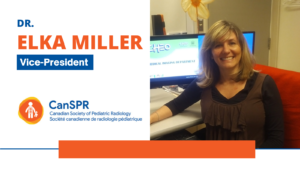 "I am honoured and excited to be part of this fantastic team of pediatric radiologists, who work together for common education and research that advances ideas related to pediatric radiology in Canada, and hopefully serve as an example to other countries."
Dr. Miller believes she brings passion and dedication to CanSPR.
"I face everyday challenges head-on and do what I need to accomplish my goals, even when the challenge is difficult. I have a strong desire to help others by improving education and research."
Research often requires collaboration, and Dr. Miller is looking forward to engaging with peers in her subspecialty.
"I am excited to draw up different ideas and work with individuals who have expertise in different areas. I am hopeful that as a team we will work towards providing better care for our children and youth and insert the passion of pediatric radiology into the future generations."
Join the CAR Affiliate Societies today! Membership fees are complimentary if you are a current CAR member and available to emergency, abdominal, pediatric, thoracic, and general radiologists, as well as current fellows or residents. If you are interested in becoming an Affiliate Society member, please join through the CAR member portal or email [email protected].