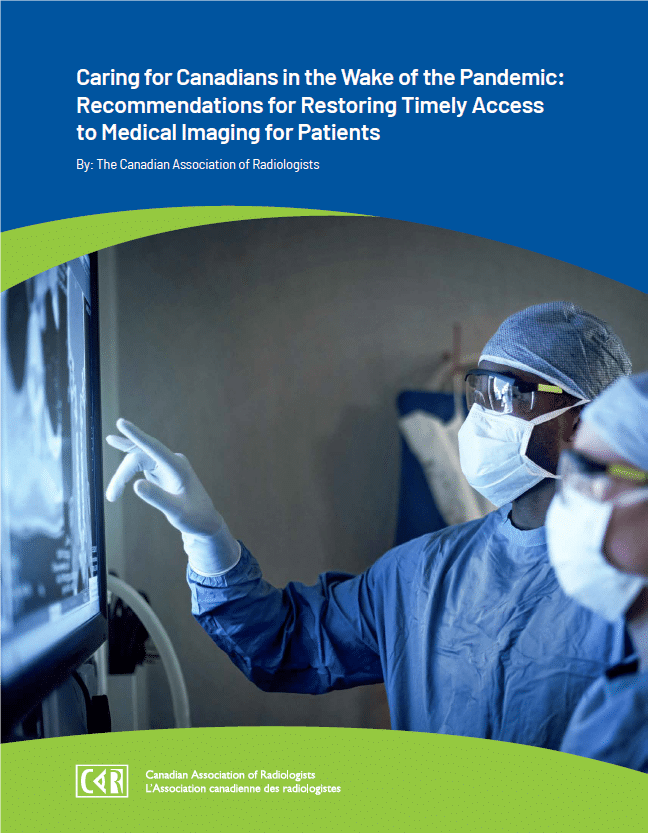 Every year the CAR participates in the House of Commons' Pre-Budget Consultation Process. The House of Commons' Standing Committee on Finance invites Canadian organizations to offer their input and advice annually on government expenditures. This input will offer recommendations endorsed by the Committee to the Minister of Finance to assign priorities in the next federal budget.
For the last several years the CAR, under the direction of the Board of Directors, has come up with a list of recommendations aimed at enhancing care for patients and advancing the radiology profession in Canada. This year the CAR is focusing on the following priorities:
A $1.5 billion federal investment in DI equipment to enhance the resilience of medical imaging in Canada.
Create a National Imaging Data Institute to harness AI for the strategic prioritization of health human resources, technology, and infrastructure for medical imaging in the wake of this pandemic and beyond.
We believe that these priorities are very timely given the experience we have gone through over the last six months. COVID-19 postponed diagnostic imaging for hundreds of thousands of Canadians. Decreased capacity to safely care for patients is severely limiting throughput in radiology. In many jurisdictions, there are significant demands on the existing infrastructure to treat patients, given physical distancing protocols and limitations on health human resources to operate extended hours. All of this has exacerbated existing strains on medical imaging resources and caused waitlists to increase to levels not seen in years.
Our recommendations are that the federal government invest in medical imaging equipment, health human resources, infrastructure, and advanced technologies to meet the needs of patients whose care has been adversely affected by the pandemic and to better prepare our healthcare system to address the challenges of the future.
Although this investment will not completely reduce wait times for medical imaging, it will help bring wait lists for Canadians to a more acceptable standard and enable radiologists to have the infrastructure and health human resources support required to support longer-term resiliency in radiology.
Read the CAR's 2021 Pre-Budget Submission.
These recommendations, combined with the upcoming Radiology Resilience Report, will help support the CAR's advocacy efforts as we gear up for a Virtual International Day of Radiology Week on the Hill in November 2020.