Experience RAD Academy, the CAR's e-Institute for CPD, to access a wide range of essential content and resources designed to fit your specialized educational needs. Reap the rewards of your CAR membership and stay informed on the latest Canadian research and innovation in radiology. The platform features a user-friendly interface with an enhanced, responsive design and delivers innovative and interactive content.
Take your professional development to the next level and make RAD Academy your one-stop shop for CPD!
Whether you are new to RAD Academy or just curious about some of the recent changes to the site, take a peek at this video to learn about the main features of the site and how to navigate it successfully.
Insights4Imaging: Journal-based Self-Assessment Program
Insights4Imaging is the CAR's journal-based self-assessment program that offers radiologists and radiologists-in-training opportunities to earn continuing professional development credits.
This program developed in tandem with the CAR's official journal, the CARJ, features the latest research, articles, and editorials pertaining to current and cutting-edge diagnostic and therapeutic radiology, and represents a broad scientific review of radiology in Canada. The articles and their associated modules fulfill the educational needs of all practice levels, by addressing new research and studies, reviewing standards of care, and focusing on clinical practice and educational needs in radiology.
Insights4Imaging modules are interactive and based on peer-reviewed educational material addressing topics such as diagnostic imaging techniques, imaging features of a disease or group of diseases, radiologic-pathologic correlation, and practice policy and quality initiatives.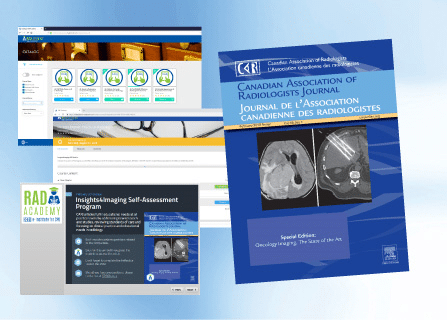 Check out this short video for information on the CAR's Insights4Imaging program as it takes you step by step through the process of obtaining your CPD credits.