Every year in March, the world takes the time to recognize the accomplishments and advancement of women by marking March 8th as International Women's Day and, in Canada, Canadian Women Physician's Day on March 11th. "These celebratory days, which have grown in visibility in recent years, offer a starting point to move towards gender equity in everyday and professional life, however, I feel that there is more work to do." – Dr. Kate Hanneman, University Medical Imaging Toronto (UMIT)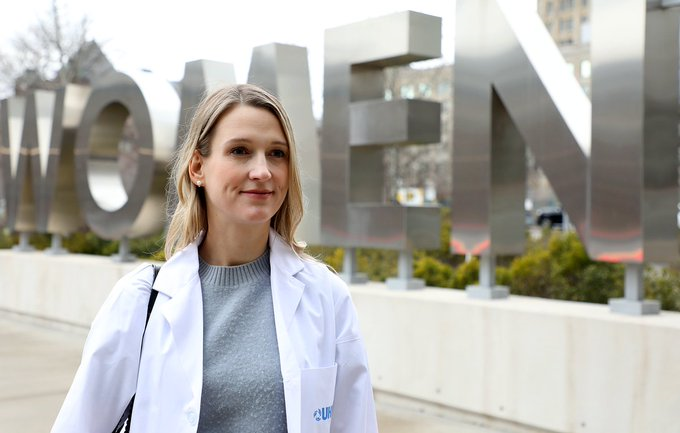 Over the course of her career, Dr. Hanneman says she has seen some cultural change in radiology as it relates to gender equity, but it has been slow in the making.
"There is a lot more discussion about equity, diversity, and inclusion particularly as it relates to gender in radiology in recent years. There are many new initiatives and programs to support and encourage women in radiology. This is all encouraging but there is still more to do to achieve equity for women."
Dr. Hanneman was recently the featured guest on the Radiologists podcast hosted by UMIT to discuss women in radiology. In the interview, she noted that one way to achieve a higher degree of gender equity is to think of radiology departments in terms of a diversity of skillset.
"Recognizing the uniqueness that we all bring is important, our strengths and our weaknesses, both for ourselves and within a department. Having a department with different skillsets is important. Nobody can do it all. I think it's important to know that and find people to work with either clinically or to collaborate with in a research department, who have complementary skillsets for patient care, research, or education for example."
In her experience, radiology lags behind other medical specialties in attracting women to the field and progressing those women to higher level and senior positions during their career journeys. A key to plugging this "leaky pipeline," as she puts it, is mentorship.
"Having mentors who are women has been invaluable to me. From a personal perspective, it has helped me navigate the challenges of an academic career with starting a family. Seeing and working with women in senior leadership positions is also very inspiring and is motivating."
While she loves her career in radiology at present, she recounted in the podcast episode that this wasn't always the case. Her initial impression was that radiology is a field dominated by men who review images with little patient interaction. Her perception drastically changed when she met other women in the field to whom she could look up and follow. Now, decades into her career, she has formative advice for other women who are contemplating a radiology career.
"Radiology is a fantastic career, and I would encourage women in medical school to consider it! Find a mentor if possible and keep an open mind when exploring different specialties and subspecialties. I had a different career path in mind but I'm so glad I found radiology." Dr. Hanneman is also this year's recipient of the CAR Young Investigator Award, congratulations!