Joining a CAR Affiliate Society is a great way to network with colleagues who share an interest in your subspecialty, and the Canadian Society of Abdominal Radiology (CSAR) Executive Committee has a fantastic volunteer opportunity.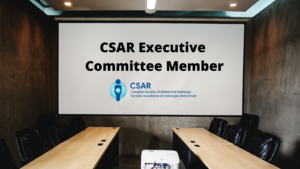 The CSAR brings together Canadian radiologists to collaborate in the prevention, diagnosis and treatment of abdominal disease and is looking for a candidate to join their Executive Committee as a Member-at-large.
This opportunity is ideal for someone who is enthusiastic about abdominal radiology and has the desire to engage with colleagues and carry out the CSAR's mission: striving to encourage educational, research and administrative connections to maintain the highest standards of abdominal radiology across Canada. Experience and interest in communication and/or social media would be considered an asset but is not essential.
By offering your name in nomination, you can help the CAR and CSAR continue to promote the highest standards in abdominal patient-centered imaging, lifelong learning, and research.
Great way to get involved ! https://t.co/I7Dm2r1OIq

— Canadian Radiology Women 🇨🇦 (@canadaradwomen) August 9, 2022
Nomination Process
The Statement of Interest should include the following three headings and describe:

Your qualifications and experience
What you would bring to the CSAR
Your communication/social media experience/enthusiasm

Deadline for nominations: September 30, 2022
All CAR members are eligible for nomination and complimentary membership to CSAR.
Please forward your nomination to [email protected].
If you are interested in becoming a member of the CSAR please join through the CAR member portal or email [email protected].