With the fall season nearly upon us, advocacy is top of mind for the Canadian Association of Radiologists (CAR). On August 4th we submitted our 2024 Pre-Budget Submission to the House of Commons Standing Committee on Finance. The theme for this report is focused on the sustainability of radiology in Canada.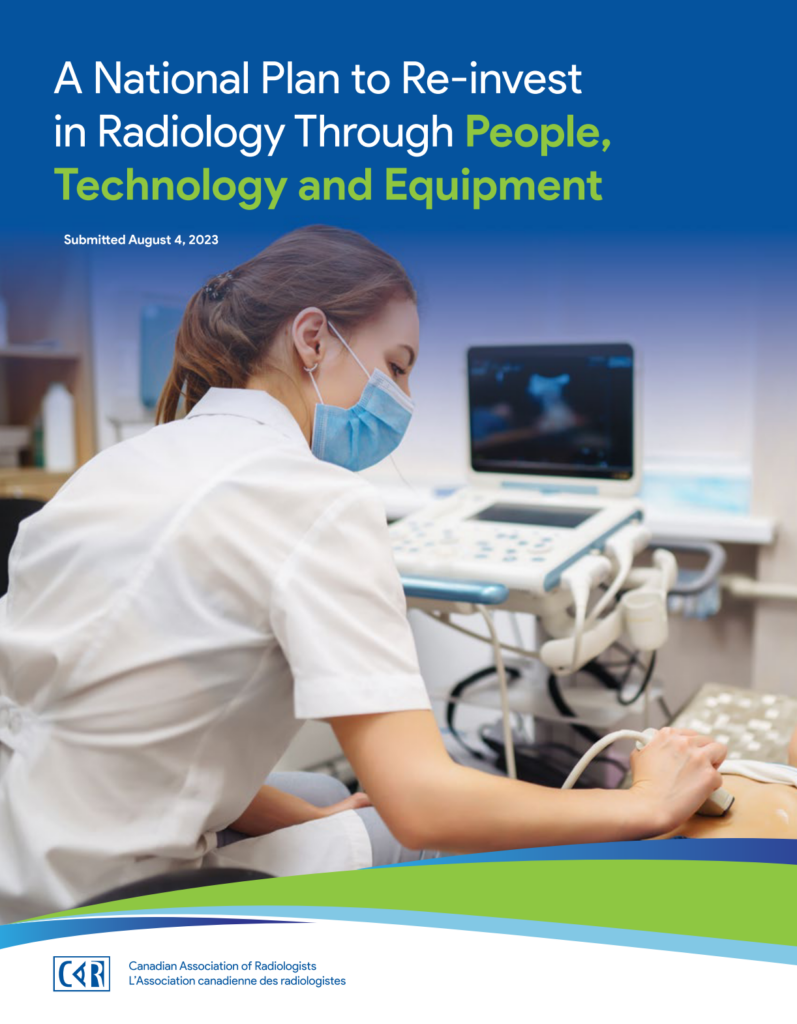 Access to medical imaging has reached crisis levels. With health human resource challenges and a lack of equipment across the country, patients are still waiting an exorbitant amount of time to access medical imaging. This is having a profound impact on the diagnosis and management of diseases for Canadians. To address these challenges the CAR, in consultation with the Canadian Association of Medical Radiation Technologists and Sonography Canada, have put forward the following recommendations to help increase capacity within medical imaging, thus enabling our healthcare system to better care for patients:
People
Invest in the hiring and retention of MRTs and sonographers as part of a health human resource strategy to reduce backlogs and improve health services. Canada needs an additional 2,000 MRTs and sonographers in the next three years.
Technology
Take a leadership role in the implementation of Clinical Decision Support systems, to help streamline the imaging referral process and ensure patients receive the right test at the right time.
Demonstrate leadership in AI through the incorporation of the CAR's Radiology Artificial Intelligence Validation Network's (RAIVN) framework to improve the evaluation and regulation of AI in Canada as part of Health Canada's Medical Devices Directorate regulatory process.
Equipment
Guide an investment of $2 billion over three years for radiology equipment.
"It is about being heard more, seen more, and better understood. The CAR Board is working diligently to represent the radiology community on the national stage and to demonstrate the significant patient impact due to wait times for medical imaging. I know firsthand how much stress that this is placing on radiologists and technologists across the country; we need to find a solution so that patients do not continue to suffer due to long wait-times for their medical imaging." – Dr. Ania Kielar, CAR President
The CAR Board is optimistic about the opportunity to appear before the Standing Committee on Finance and will use this submission as the backbone of our messaging when meeting with MPs in October during our Annual Day on the Hill.
On October 19th, radiology leaders from across the country will come to Ottawa to participate in the CAR's Day on the Hill. Board members will meet with political leaders on Parliament Hill to convey the urgency to invest in radiology. As part of the day's programming, the CAR will host a breakfast roundtable session focused on AI and the need for Federal leadership in this space as it pertains to integrating these solutions into radiology.
While we did have success in early 2023 with the Federal Minister of Health's announcement of $2 billion in new funding to address the backlogs including diagnostics, additional investment in needed. We have been in correspondence with the Minister of Health's Office, Innovation, Science and Economic Development Canada (ISED), and Health Canada's Medical Devices Directorate regarding the recommendations listed above and will continue to strive for additional investments to be earmarked for health human resources, CDS, and new medical imaging equipment.  We will also be asking the Federal Government to take a leadership role in the implementation of new technologies, such as AI, that will enhance radiological care in Canada.
To learn more about the CAR's advocacy initiatives, visit car.ca or contact [email protected].