Spring has sprung and so blooms a fresh new look for RAD Academy! The CAR has created a more interactive learning environment with this latest update to the learning management system (LMS). We have added a new set of collaborative tools to maximize our engagement with members and boost your user experience to ensure that RAD Academy is your go-to hub for all your CPD needs!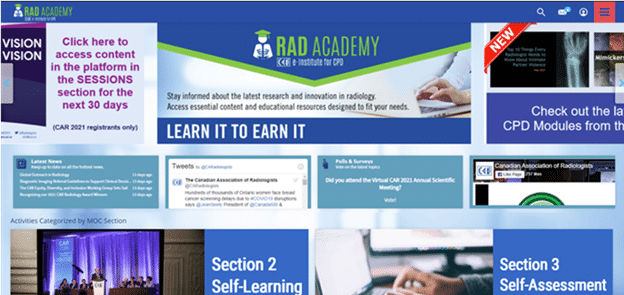 New Features
Eye-Catching Billboards


Check out our new billboard carousel which showcases our featured activities. Click the images or videos for direct access to these prominently featured activities. The billboards link to activities in the LMS or external pages.
Read CAR News


Stay connected to the CAR newsletter; putting the latest news articles and interesting information at your fingertips!
Join the Feedback Loop


Share your voice, provide your feedback, and vote in the latest poll. Instantly see poll results after casting your vote!
Stay 'Social'


Engage with your peers on social media! The CAR's Facebook and Twitter tiles foster immediate interaction, allowing you to "like", comment, retweet, and reply in real time.
We have also added new categorization and more tags to increase the searchability of the LMS so you can easily find the content you're looking for. Explore the new simplified MOC categories and tiles, making it easier for you to determine how to associate your credits in MAINPORT.

You can still easily access the courses you've enrolled in by clicking the 'My Courses' tile or scroll through the full Catalog. Input your credits directly to MAINPORT from the main dashboard. Need a refresher? Check out the RAD Academy Navigation video!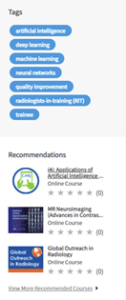 Look for Recommended Courses, which will highlight additional content within a course detail view that might be of further interest to you.
NEW multi-credit feature allows you to quickly see the number of eligible credits associated with the activity.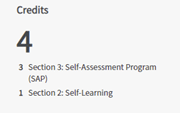 RAD Academy is an exclusive benefit of membership. Please email us for access. Explore RAD Academy and check out its new features! #LearnItToEarnIt