The CAR Annual Scientific Meeting is returning to Montreal as an in-person event and that means there will be numerous opportunities to catch-up with colleagues and meet new members of the Canadian radiology community.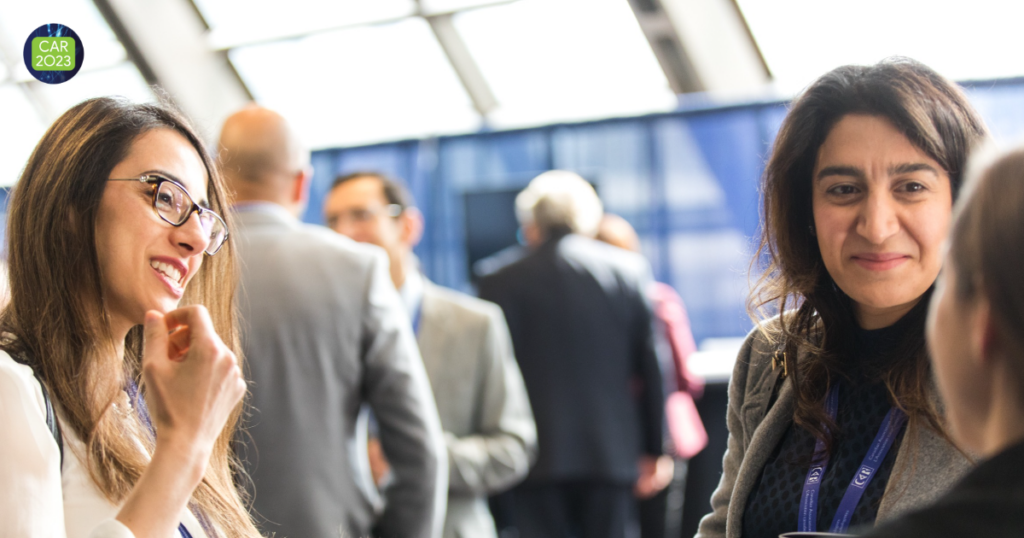 Affiliate Society Business Meetings and Networking Dinners – Thursday, April 27

The CAR's four Affiliate Societies will be hosting business meetings and networking dinners for radiologists and radiologists-in-training. All are welcome to attend!

Business Meetings

CanSPR: 9:00-10:00
CSAR: 10:00-11:00
CETARS: 12:00-13:00
CSTR: 15:00-16:00

Networking Dinners
Welcome Reception – Thursday, April 27, 18:30-19:30
Presented by Hologic

This reception will serve as the kick-off event to the meeting, officially welcoming CAR members and participants to the Annual Scientific Meeting and to the city of Montreal. The reception will follow the CAR Annual General Meeting (AGM), where CAR members are invited to take part and share their opinions with the CAR Executive team. After the AGM, CAR 2023 will feature the first plenary session of the weekend: a highly anticipated talk from Dr. Jan Fritz. It provides a fitting end to the first day of CAR 2023 which is Trainee Day, a day of educational events specifically curated for trainees.
---
Vendor cocktail – Friday, April 28, 17:30-19:00

Come for the plenary session by Dr. Jeremy Erasmus and stay for the cocktail hour presented by the CAR 2023 corporate partners. The CAR 2023 vendor cocktail gets underway immediately following Dr. Erasmus' presentation Imaging the Chest Post Radiation Treatment: What the Books Don't Tell You. The cocktail is a chance for participants to connect with industry partners who are ready to offer solutions and help radiologists in their everyday practices.
Radiologist-in-Training Reception – Friday, April 28, 19:00-21:00
Presented by Agfa

After the vendor cocktail, Radiologists-in-Training will be able to get together for an evening just for them! The Radiologists-in-Training Reception offers time and space for trainees to connect with peers and with potential future colleagues. It is a great chance to meet other trainees from across Canada and to find out more about the CAR's student focused groups – the Resident and Fellow Section and the Medical Student Network.
Canadian Radiology Women Reception – Friday, April 28, 19:00-21:00

The Canadian Radiology Women (CRW) are looking forward to seeing everyone at CAR 2023! Join your colleagues for the CRW Reception at Kyo Bar Japonais. No formal registration is required and everyone is welcome.
---
CAR Awards Ceremony and Reception – Saturday, April 29, 17:30-19:00
An Evening of Jazz – Saturday, April 29, 20:30-23:00
Presented by GE Healthcare

All participants are invited to join GE Healthcare at the Saint James's Club of Montreal for an Evening of Jazz dedicated to celebrating the start of a new era for GE Healthcare and a wonderful weekend. There will be a jazz trio throughout the evening alongside great conversations with colleagues. RSVP to Isuri Kuruppu is appreciated but not required.
Register today for CAR 2023 to network with Canada's radiology community.