With the European Congress of Radiology (ECR) less than two months away, now is the time to register to reserve your spot.
Hosted by the European Society of Radiology (ESR), the ECR is an annual conference that takes place in Vienna, Austria every year. ECR is one of the largest medical meetings in Europe and the second-largest radiological meeting in the world, geared towards radiology professionals, radiographers, physicists, industry representatives and press reporters for both the medical and consumer press. The event is being held from March 11 – 15, 2020 at the Austria Center.
Canada is invited as one of the featured countries to be showcased at this event. With this, the CAR has put together an exciting line of up of speakers for our Canadian themed track, Canada Meets ECR, on Saturday, March 14 focusing on the Canadian Healthcare System, advocacy in a single-payer health system, AI in radiology and wellness. We are also showcasing the best and brightest that Canadian radiology has to offer.
We express our appreciation to everyone who submitted their abstracts for consideration for the Canada Meets ECR 2020 contest. The abstract review committee had a record number of submissions, which made selecting the top three abstracts extremely difficult. We congratulate the winners of the contest and thank everyone for participating.
Canada Meets ECR Winners
Name
Category
Organization
Name of Presentation
Waleed Abdellatif
Radiologist-in-Training Research Project
Department of Radiology – University of British Columbia
Transcontinental Thematic Analysis of Gender Role in Medical Schools Leadership: A Message to Academic Radiology & Hospital Administration
Paulo Puac Polanco
Scientific Research Project
Division of Neuroradiology
Radiology-Department of Medical Imaging
uOttawa- The Ottawa Hospital
Can CTA differentiate free-floating thrombus in the internal carotid artery from atherosclerotic plaque in patients evaluated for stroke or transient ischemic attack? A Canadian Multi-centre Study
Francesco Macri
Scientific Research Project
Department of Emergency and Trauma Radiology at Vancouver General Hospital
Traumatic Bowel Injuries Increased Detectability with Dual-Energy Ct Virtual Monoenergetic with Color-Coded Iodine Overlay Imaging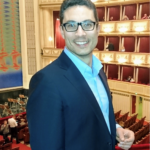 "Thank you to the CAR for this exciting opportunity! I am humbled and honoured to represent Canada at ECR 2020 in the advancement of knowledge and patient care in our field." – Francesco Macri
The CAR will have great visibility at this event and a booth at the entrance of the conference center. We partnered with the Canadian embassy in Vienna and are working to offer a Canadian experience throughout the ECR meeting. During the evening of Thursday, March 12, at the Canadian Ambassador's residence, there will be a formal reception held to welcome Canadian radiologists, Canadian diagnostic imaging companies, as well as international delegates. If you have not done so already, we invite you to RSVP to [email protected] as there is limited space.
The ESR will also be featuring a European track at our annual meeting in April. Visit car-asm.ca for more.