The CAR would like to extend a warm welcome to Dr. Daria Manos, who assumed the role of President of the Canadian Society of Thoracic Radiology (CSTR), an Affiliate Society of the CAR, on May 1, 2021. We also want to take this opportunity to sincerely thank Dr. Carole Dennie for her amazing leadership and dedication as the founding President of the CSTR. Dr. Dennie will continue to serve on the CSTR Executive in the role as Past President and Dr. Elsie Nguyen will be assuming the role of Vice President.

"Under the visionary leadership of our inaugural President, Dr. Carole Dennie, the CSTR has come a long way since its launch in 2018. On behalf of the CSTR, I want to thank Dr. Dennie for her tireless energy, mentorship, and support. Under her leadership we have published several statements and guidelines, held our first education day, started a national research committee, received grants for our work in lung cancer and, perhaps most importantly, formed a Canadian network of cardiothoracic radiologists. The year 2020 and the global pandemic was the start of a challenging time for everyone, and our network allowed us to mobilize quickly, share information, learn from, and support each other, and ultimately publish what we learned to assist others. As we look to the future, we hope we can leave the pandemic behind, while keeping our ability to unite and support each other from coast to coast to coast."
—Dr. Daria Manos, Head, Section of Thoracic Radiology, QEII Health Sciences Centre and Associate Professor Diagnostic Radiology, Dalhousie University.
CSTR 2021: Focus on Lung Screening – April 28, 2021
Thank you to those who attended the CSTR 2021 Focus on Lung Screening at the CAR 2021 Annual Scientific Meeting. This inaugural CSTR education event was a great success and featured a dynamic and comprehensive program with live accredited sessions and on-demand content on pulmonary vascular imaging, diffuse lung disease and cardiovascular imaging. It concluded with a panel discussion with leaders in low-dose CT for lung cancer screening from Canada, the US and Europe. All registered participants have access to the ASM session content and to the individual presentation evaluation surveys through the virtual platform until May 31, 2021.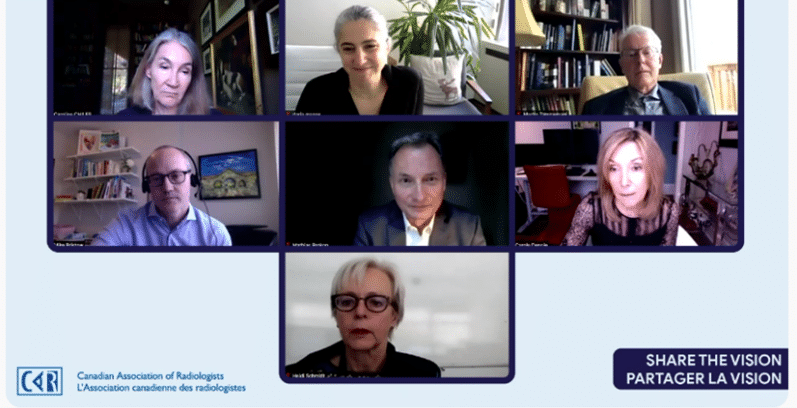 View this short video from the closing remarks at the CSTR 2021: Focus on Lung Screening from the CAR 2021 ASM.
CSTR News
The CAR/CSTR Lung Cancer Screening Accreditation and Education project is well underway and focused on the development of a new national lung cancer screening accreditation program and specialized education in CT lung cancer screening for radiologists. It has been made possible through collaboration and support from the Canadian Partnership Against Cancer. Stay tuned for more updates this fall/winter as we launch the accreditation pilot and plan for the delivery of educational content for general and subspecialty radiologists, as well as residents and fellows whose work involves interpreting lung cancer screening CT.
Check out the recently published CAR/CSTR guidelines in the CAR Journal
The CARJ is seeking cardiac and thoracic reviewers
The CSTR is seeking to recruit cardiac and thoracic radiologists to serve as peer reviewers for the CARJ Journal. Contributing to the journal as a peer reviewer supports the advancement of the Canadian radiology research community, demonstrates a professional commitment to scholarship, and helps the reviewer to remain up to date on research and developments in the field. If you are interested, please contact Casey Hurrell, Managing Editor of the CARJ.
New CSTR committees
The CSTR Education Committee commenced in 2021 and is chaired by Dr. Brett Memauri, Assistant Professor, Department of Radiology, University of Manitoba. The committee will be working on developing core curriculum based educational tools and resources on cardiac and thoracic imaging.
The CSTR Research Committee chaired by Dr. Narinder Paul, Chief, Department of Medical Imaging in the Schulich School of Medicine & Dentistry, Western University is exploring the potential for multi-site pan-Canadian research collaborations. If you are interested in volunteering with the CSTR Research Committee, please contact

[email protected]

. The committee is currently collecting input on the following research topics:

Lung cancer screening
Applications of low dose/ultralow dose CT
Application of AI
The CSTR is committed to strengthening connections between those interested in promoting and practicing high-quality cardiothoracic imaging across Canada. In the next two years we will launch our cardiothoracic curriculum, the strengthening of our research network and the development of new supports for radiologists in the early detection of lung cancer.
If you have an interest in cardiothoracic radiology and would like to become a member of CSTR, please join via the CAR member portal or email.
For more information, please visit car.ca/cstr.