University of British Columbia (UBC) professor and CAR member Dr. Bruce Forster was recently honoured for sharing his knowledge and expertise with colleagues in Ireland. Last month, the Royal College of Surgeons in Ireland (RSCI) presented Dr. Forster with the Haughton Medal and an honorary induction into the Faculty of Radiologists of Ireland.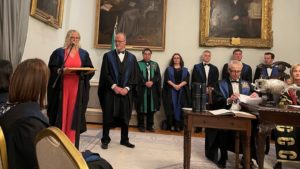 Dr. Forster's career at UBC has enabled him to work with the radiology community in Ireland for decades.
"I have been privileged to be involved in educational and research programs at UBC with Irish Radiology Fellows for 25 years, whose knowledge and commitment have been universally outstanding. I have been Visiting Professor and conference speaker in the past with the Irish Faculty of Radiologists and have always thoroughly enjoyed my trips to Ireland."
Dr. Forster believes that international working relationships, like those he has cultivated with colleagues in Ireland, are important for Canadian radiologists to develop.
"It is crucial that we as Canadian radiologists and CAR members forge and celebrate our global relationships in the radiology community. No matter where you go in the world, our field plays a huge role in patient care, and we can all continuously learn from each other."
Congratulations to Dr. Forster on the tremendous honour!