Have you ever felt soreness or discomfort after spending hours at your workstation? Instead of enhancing the work of a radiologist or trainee, workstations are often the cause of musculoskeletal discomfort that can quickly inflame injury or lead to burnout. Dr. Charlotte Yong-Hing led a national ergonomics survey and presented the results during a plenary session at CAR 2022's Trainee Day. Dr. Yong-Hing believes that making knowledge of proper ergonomics more common in the radiology community will have a positive impact, improving the well-being and productivity of radiologists and trainees.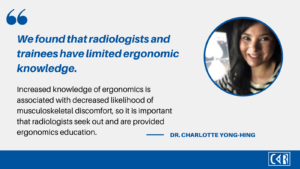 "Workstations are integral to the work we do in radiology," says Dr. Yong-Hing. "We use workstations all day and all night. We found up to 16 hours at a time sometimes. Many workstations are shared, and workstations are often not fully adjustable." She says that common workstation conditions like these are what drive ergonomic related injury and burnout.
Prevention begins with knowledge and understanding of optimal ergonomic practices, something Dr. Yong-Hing has worked to make more prevalent. "We found that radiologists and trainees have limited ergonomic knowledge. Increased knowledge of ergonomics is associated with decreased likelihood of musculoskeletal discomfort, so it is important that radiologists seek out and are provided ergonomics education." Without this knowledge, Dr. Yong-Hing says it is difficult to create an ergonomically friendly workstation that enables productivity and prevents injury. "The musculoskeletal discomfort that can arise often requires symptom management including medication and services such as physiotherapy and massage. When the workstation is not adjustable, radiologists and trainees may be forced to provide their own furniture or even work elsewhere if the workplace is not accessible."
Though workstations can vary greatly, Dr. Yong-Hing offers some ergonomic techniques that are commonly applicable:
Relaxed shoulders and arms
Monitor at arm's length with top of screen at eye level
Relatively flat wrists
Elbows at 90 degrees
Feet flat on floor or on footstool
Chair with lumbar support
In order for radiologists and trainees to fully benefit from ergonomics best practices, the effort to make workstations ergonomically correct has to come from both the staff and department. "We recommend that radiology departments offer ergonomics training and evaluation, and provide adjustable equipment," says Dr. Yong-Hing. "Individual radiologists and trainees should advocate for an inclusive workplace and when possible, make adjustments before using shared workstations."
If workplaces can adopt or incorporate ergonomics best practices on a large scale, it will go a long way towards reducing burnout and injury among radiologists and trainees.