The CAR will be hosting its first ever virtual Annual Scientific Meeting (ASM) from April 27-May 2, 2021 and we couldn't be more excited! This year the CAR 2021 includes a Trainee Day (April 27) and a Canadian Society of Thoracic Radiology (CSTR) Day (April 28) followed by four days of scientific programming for the broader radiology community. The scientific program is approved for a maximum of 20.25 credits (Section 1)*. Register today!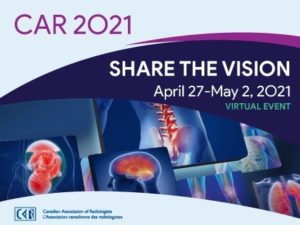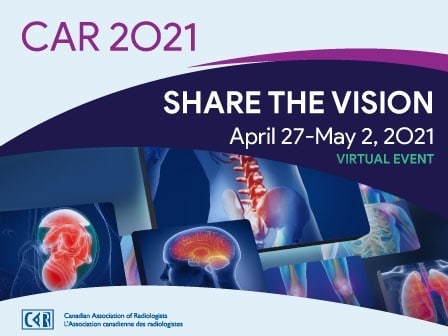 CAR 2021 will feature four plenary sessions on the promotion of diversity, equity and inclusion in radiology, whole body trauma imaging, radiology and the COVID-19 pandemic, and multimodality imaging of the placenta. All plenary presentations will be followed by Q&A. Do not miss your opportunity to take part in these keynote lectures:
Opening Plenary: Practical Promotion of Diversity, Equity and Inclusion in Radiology
Tuesday, April 27
Panelists: Drs. Anand Narayan, Lucy Spalluto, and Charlotte Yong-Hing
Equity, diversity, and inclusion (EDI) initiatives are an increasingly visible aspect of work and interaction in radiology departments, training programs, and professional life. This panel discussion brings together radiologists from across North America to discuss the EDI projects, programs, and practical initiatives at their institutions, as well as perspectives on how radiology has been affected by increased awareness and interest in these issues, and how it may evolve in the future.
Keynote Lecture: Whole Body Trauma Imaging: Radiology Impacts Patient Management
Thursday, April 29
Dr. Savvas Nicolaou
Whole body imaging is an increasingly prevalent approach for the evaluation and treatment of patients with traumatic, life-threatening injuries. Accelerated image acquisition and interpretation procedures now make it rare for trauma surgeons in major centres to undertake damage control surgery unaided by imaging and the perspective of radiologists, particularly in cases of blunt trauma. In this keynote lecture, Dr. Savvas Nicolaou will discuss whole-body trauma imaging protocoling and its applications in the acute setting, providing guidance on how to relate findings that are critical to the surgical management of patients.
Plenary Panel: Radiology and the COVID-19 Pandemic: What We've Learned and Where We Go From Here
Friday, April 30
Panelists: Drs. Mark Baerlocher, Devang Odedra, Ciaran Redmond, and Jana Taylor
The COVID-19 pandemic has fundamentally altered the delivery of healthcare services in Canada and has had a particularly acute effect on radiology. This panel brings together radiologists from across Canada to offer their perspectives on the way that the pandemic has affected radiology training, teaching, practice and patient care.
Plenary Lecture: Multimodality Imaging of the Placenta
Sunday, May 2, 2021
Dr. Jamie Marko
Dr. Jamie Marko will discuss the radiologic, pathologic and clinical features of important placental abnormalities including placenta accreta spectrum, gestational trophoblastic disease, and placental chorangioma.
Program Highlights
Trainee Day** – Tuesday, April 27
We are holding an entire day devoted to content geared for trainees, kicking off with an opening plenary focused on Practical Promotion of Diversity, Equity and Inclusion in Radiology. The day will also include a case review bootcamp focused on MSK featuring speakers from across Canada and the ever-popular Hot Seats review sessions. Later that evening, trainees are invited to take part in a Speed Mentorship Program and Virtual Party.
CSTR 2021 – Focus on Lung Screening – Wednesday, April 28
The CSTR Planning Committee has designed a dynamic and comprehensive program focused on important topics including pulmonary vascular imaging, diffuse lung disease and cardiovascular imaging. The day will conclude with a panel discussion with leaders in low-dose CT for lung cancer screening from Canada, the US and Europe.
Join the conversation on Twitter using the hashtag #CAR2021.
*CAR 2021 is an Accredited Group Learning Activity (Section 1) as defined by the Maintenance of Certification (MOC) Program of the Royal College of Physicians and Surgeons of Canada and approved by the CAR. The CAR 2021 scientific programme is approved for a maximum of 20.25 credits (Section 1).
**Participants in the CAR Trainee Day are eligible to claim a maximum of 3.5 hours (credits are automatically calculated) under Section 1 (Group Learning Activity) of the MOC Program of the Royal College.