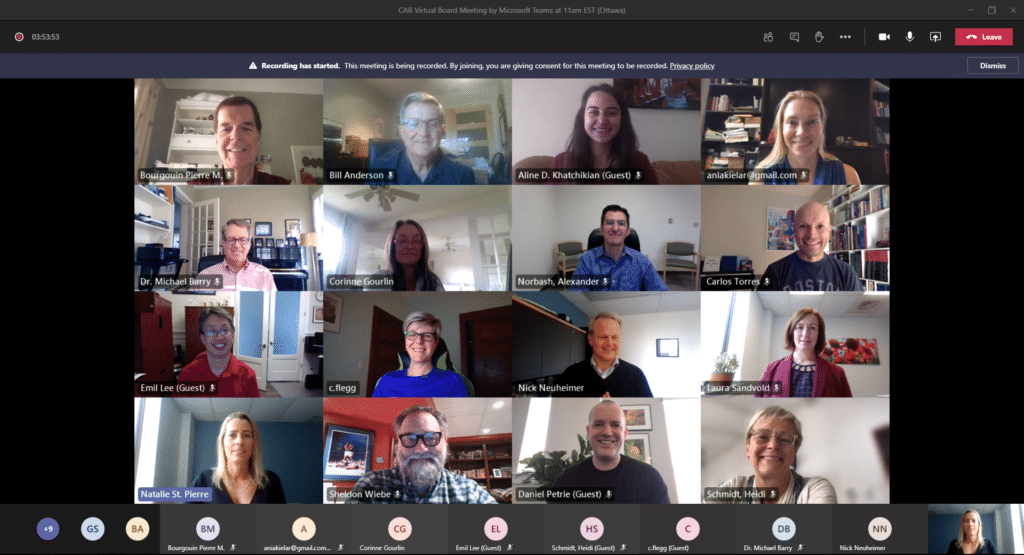 The community has come together to respond to the pandemic
On Saturday, September 26 the CAR Board of Directors met to discuss the impact that COVID-19 has had on the community as well as upcoming priorities for 2020/21. The main themes of the meeting centered around advocacy, education and guidelines. Through the hard work of the CAR Board, our Standing Committee/Working Group leads and volunteer members, we have been able to adapt to a virtual environment and establish the radiology community as a leader for guidance in medical imaging in Canada.
Since the declaration of the global pandemic, the CAR's team mobilized its efforts to focus on providing valuable resources for its members and for the government. We have published over 20 COVID-19 resources since March 2020 and continue to work on developing recommendations for radiology resilience now and in the future.
Some of the key takeaways from the recent board meeting include:
Despite the trials and tribulations of this past year, as a community we came together and have remained strong, pushing our way through these difficult times. I am very proud of the great work of the Board, our affiliate societies, and Standing Committee/Working Group volunteers in demonstrating leadership.
Although the future is uncertain, we are well positioned to ensure sustainability of radiology for patients now and into the future. We will continue to pursue our advocacy efforts and are hopeful that the government will lend their support to the medical imaging community through an investment of $1.5 billion over 5 years in diagnostic imaging equipment.
We are thankful for the support of our members in our efforts.
Dr. Mike Barry
CAR President, On behalf of the CAR Board of Directors