The use of ultrasound by clinical specialties outside of radiology has been steadily increasing. In 2013, the Canadian Association of Radiologists (CAR) published a position statement on "non-imager" use of ultrasound. Since then, there have been considerable changes in the practice landscape, and there is ongoing interest from multiple stakeholders, including non-radiologist physicians and paramedical health professionals, to incorporate ultrasound into their clinical practice. These professionals are looking to the CAR for guidance on training and standards, which can be used to assess initial and ongoing competency.
In September 2018, the CAR convened a working group, chaired by Dr. Tanya Chawla, to provide guidance about the proper scope and use of point of care ultrasound (POCUS) for all physicians, medical associations and their governing bodies, that could be involved in decision making, quality evaluation and patient safety in Canada. The working group crafted a CAR Position Statement on point of care ultrasound featured in the August 2019 issue of the CAR Journal.
The intention of the position statement is to clarify what POCUS is, and where it fits into the clinical pathway. One of the principle aims of this statement is to bring issues to the attention of relevant stakeholders and encourage appropriate measures to be taken to ensure the highest quality and standards in the use of ultrasound for diagnosis and procedural guidance. The statement is not intended to be prescriptive about how or when ultrasound could or should be used. Rather, this statement outlines further steps to be taken, in consultation with imaging experts, to ensure safe and appropriate utilization of POCUS. Ultimately, this is to safeguard Canadians.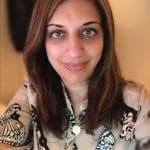 "I am very happy to have been involved in creating this document with our thoughtful and well-represented working group at a time when our profession and our clinical colleagues are looking to have appropriate guidance into the rapidly expanding field of POCUS. It has never been more important for us to reinforce the distinction between POCUS and an examination performed in the diagnostic imaging department, confirm its appropriate utilization and scope, such that all those involved in patient care are practising ultrasound under the same rigorous standards to achieve the best outcome and quality for our patients." – Tanya Chawla MRCP FRCR FRCP(C)