Both Drs. Costa and Miller, members of the Canadian Association of Radiologists Journal (CARJ) Editorial Board, consider research as the foundation of medical education and training. Research projects can improve radiology skills and keep the radiologist up to date with changes in the field. At both Dalhousie and the University of Ottawa, teams are conducting patient-centered, clinically impactful research.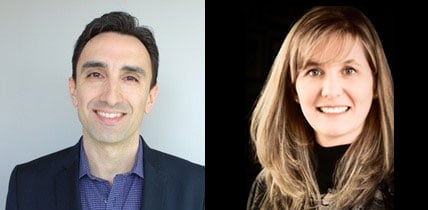 Dr. Andreu Costa (Dalhousie University, Queen Elizabeth II Health Sciences Centre) was drawn to radiology after completing undergraduate work in Engineering Physics, and a Master's in Medical Biophysics. Dr. Costa's current clinical and research interests include hepatopancreaticobiliary imaging, imaging technique and quality improvement. He has authored over 40 peer-reviewed manuscripts and has been awarded $342K in grant funding as either principal or co-investigator. Several of Dr. Costa's studies have led to improved imaging techniques and patient pathways. Dr. Costa first became involved with the CARJ Steering Committee in 2016 and became a member of the Editorial Board in 2019.
Dr. Costa's tenure with the Journal has enabled him to expand his own knowledge about research and publishing trends and business practices. He has been actively involved in raising the profile of the Journal in Canada as well as internationally and transitioning the Journal between publishers and Editors-in-Chief. Through this work, Dr. Costa has gained a greater appreciation for the shared challenges facing radiologists across Canada, and what can be done to address them collectively and collaboratively.
"Working with the Journal and CAR working groups has given me a greater appreciation for the challenges that we are all facing in radiology – updating clinical practice and guidelines, addressing physician burnout, improving diversity, and COVID. We're all facing similar challenges, hence the need to work together on a national level to lead and address issues unique to our environment." – Dr. Andreu Costa
Dr. Elka Miller (University of Ottawa, Children's Hospital of Eastern Ontario) joined the CARJ Editorial Board in 2019. She chose a career in pediatric radiology after developing an interest in the way that radiology feeds into the rest of medicine, the advanced technologies that radiologists use in their daily work and based on a desire to work with pediatric patients and their families in a different way. Dr. Miller is actively involved in medical education and research with a special interest in Pediatric Neuroimaging, Fetal and Neonatal Imaging. She has published 76 peer reviewed publications, 12 book chapters, and been involved in 17 grants at various levels. She is a reviewer for multiple international journals, has been a six-time recipient of the Radiology Editor Recognition Award for reviewing with distinction and received the RSNA Roentgen Resident/Fellow Research Award in 2008. For Dr. Miller, research and publishing are a way to enhance and further her work as a radiologist, to bring pediatric radiology to a wider community, and to advocate for her pediatric patients and their families in a rapidly evolving field.
"Research not only creates new knowledge, but it also facilitates learning new skills, connecting with people, growing ideas, and making changes that will have an impact on your work, your community, and others to advance science. The CARJ Editorial Board encourages all these facets of research, extends opportunities to the radiologists in Canada and helps us all in advancing our different radiology subspecialties" – Dr. Elka Miller
For Drs. Costa, Miller, and the other members of the CARJ Editorial Board, involvement with the CARJ has created an opportunity to collaborate with a diverse group of dedicated members of the CAR community, and to contribute to the advancement of radiology research and education in Canada. Dr. Costa observes,
"What I've enjoyed most about serving on the Editorial Board is working alongside fantastic radiologists and CAR staff affiliated with the CARJ as well as the various CAR working groups. The work produced by these groups is highly rewarding and has been widely cited internationally. The Canadian radiology community is fortunate to have many great leaders and role models, people who drive change and serve their communities, and it's a pleasure to work with them."
If you are interested in learning more about the CAR Journal, check out their website. CAR members can access the journal through the CAR Member Portal. For more information about how to become a reviewer, please contact us.