Atypical Femoral Fracture Alert Program
Atypical Femoral Fracture Alert Program
Osteoporosis Canada: Radiologists are ideally positioned to improve management of AFF
As the name implies, Atypical Femoral Fractures (AFFs) are a relatively uncommon form of fracture of the proximal femur. AFFs have distinct etiology, radiologic features, and management, but are underappreciated, leading to a significant care gap. In an article published in the CAR Journal, Osteoporosis Canada outlines an AFF Alert Program in which radiologists are ideally positioned to play a major role.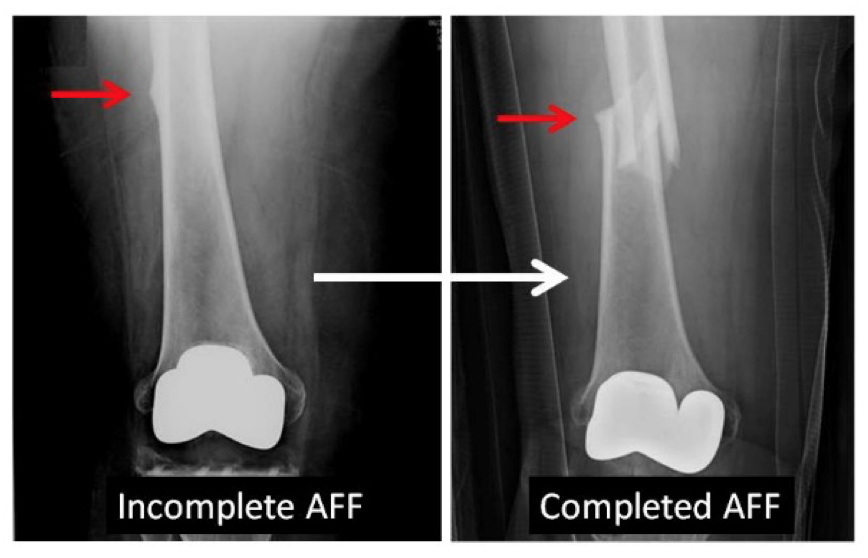 AFFs are a form of stress or insufficiency fracture. Most are associated with bisphosphonate use for osteoporosis, while a smaller number are associated with Denosumab (another osteoporosis medication) or are idiopathic. Unlike conventional fragility fractures where management includes starting pharmacotherapy for osteoporosis, management of AFFs involves discontinuing such medication. As outlined in this complete overview, AFFs may present at 2 time points, a prodromal incomplete AFF, or a completed AFF. Both have distinct imaging features and in both cases reporting radiologists can positively impact management.
Incomplete AFFs

Complete AFFs

Further information on AFFs is available in the ASBMR AFF guidelines/task force report.
_______________
References
Khan, A., Iles, S., Kaiser, S., Probyn, L., Cheung, A., Burrell, S., Atypical Femoral Fracture Alert Program. Can Assoc Radiol J. 2016;67(3): 304-305.
Khan, A., Leslie, W., Lentle, B., Iles, S., Kaiser, S., Frame, H., Burrell, S., Cheung, A., Atypical Femoral Fractures: A Teaching Perspective. Can Assoc Radiol J. 2015;66(2): 102-107.
Shane, E., Burr, D., Abrahamsen, B., et al., Atypical Subtrochanteric and Diaphyseal Femoral Fractures: Second Report of a Task Force of the American Society for Bone and Mineral Research. J Bone Miner Res. 2014; 29(1): 1-23.